The Dorset Council behaviours form part of everything you will do and you'll need to be able to demonstrate them through the way you work. It's not just what we do, but also how we do it, that is measured by our managers; and by our customers, councillors and colleagues throughout our interactions with them. This is why our own – and our colleagues', behaviours are so important to each of us.
Our Behaviours - what these mean to our employees
Look at the videos below to hear what our behaviours mean to our employees: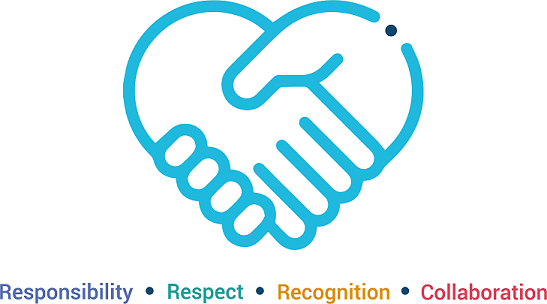 Dorset Council - Our Behaviours
The behaviours are an essential part of your performance management and development plans, which link your annual appraisal meetings and every informal and formal conversation you have with your manager, as well as the decisions and actions you both take to achieve your targets.
Demonstrating attitudes and approaches which are consistent with our values can lead to achieving successful outcomes for us and our customers.
As we join together to create a brand-new organisation, Dorset Council, the behaviours, attitudes and approaches we take will be key to our success as a business and our vision to be an employer of choice.
Our people are our most important asset which is why the behaviours described in this framework have been developed in partnership with our employee forum. Developing our behaviours together has helped us to understand our existing organisations, what we can take with us into Dorset Council, and what we would like to leave behind.
We will continue to evaluate the framework to reflect our journey, as we continue to shape and develop Dorset Council together.
What do we mean by behaviours?
Behaviours are the attitudes and approaches we take to work:
how we expect to be treated
what we say and how we say it
how we treat others
how we do things
Why do we need a behaviour framework?
to bring consistency to how we work
build positive, collaborative working relationships
shape and influence the right cultures for Dorset Council
set out organisational standards of behaviours
How will the behaviour framework be used?
job descriptions
recruitment - to make sure we recruit based upon a cultural fit, as well as a technical job fit
learning and development
leadership and management discussions
performance management e.g. appraisals
Our behaviours
There are four behaviours we expect every employee to demonstrate, regardless of who they are and what they do for the council. In how we work and communicate, whether internally or externally, we should be leading by example to encourage and inspire each other through these behaviours: Responsibility, Respect, Recognition. By embodying these behaviours we are able to work collaboratively together as One Team.
The examples given against each behaviour describe the type of things that you might see individuals demonstrating. These examples are a guide rather than an exhaustive list and are here to be developed. This framework has been designed to aid discussions across Dorset Council, to help us work towards a positive workplace culture.
Responsibility
We act with integrity. We are honest and we don't attribute blame when something goes wrong. We are all part of the solution.
Our behaviours - Responsibility
When responsibility is being demonstrated
When responsibility is not being demonstrated

We…

give constructive feedback and seek out feedback on our own performance and behaviours
deliver what we promise
are open and transparent
learn from mistakes
take ownership
standby and support difficult decisions

We…

blame others
defer decision making without a good reason
don't respect other people's work or deadlines
avoid difficult conversations with colleagues, partners or customers
Respect
We are aware of our impact on others. We treat people fairly and have high expectations of ourselves and others, and value differences in approaches and opinions. We instigate and lead through positive behaviour.
Our behaviours - Respect
When respect is being demonstrated
When respect is not being demonstrated

We…

are welcoming and friendly
adapt our approach to help build good working relationships
recognise and value the differences between people, placing a positive value on those differences
manage our reactions professionally and calmly
keep promises
demonstrate empathy and recognise alternative perspectives

We…

treat people differently based on their role / position
are insensitive or unhelpful
exclude people
instigate or take part in gossip
make excuses for poor behaviour or protect others' poor behaviour
work on other tasks during meetings, instead of being responsive and contributing to the discussion
Recognition
We appreciate and value the contribution of individuals and teams for work well done. We lead by taking time to provide feedback and share lessons learned and achievements to support the organisation's development. We celebrate commitment and success.
Our behaviours - Recognition
When recognition is being demonstrated
When recognition is not being demonstrated

We…

give positive feedback
acknowledge good behaviour and respectfully challenge poor behaviour
value every contribution in success
create a positive team spirit

We…

take credit for other people's work
instigate or encourage a blame culture
undermine or act negatively when someone receives recognition
use recognition for self-promotion
One Team: Collaboration
We work with colleagues, residents and partners to achieve the best possible outcomes. We feel confident to share ideas, we listen and respect other points of view and set this example to each other. We value the power in combining our personal qualities, skills and experience to achieve a shared goal.
When collaboration is being demonstrated and when it isn't
When collaboration is being demonstrated
When collaboration is not being demonstrated

We…

spend time building positive relationships
are flexible in our attitude and approach
share information and expertise without being asked to
invite and support others to try new possibilities
work through conflict to create conditions for successful working
work to find the simplest way to do things
work together, not in competition

We…

don't share information or are reluctant to contribute
don't value or respect contributions from others
avoid working across departments or teams
are not flexible in our attitude and approach
take credit for other people's work