We've been working with families, professionals and partners to find out what we need to change and how we can improve.
Parents told us that we needed to:
give families the information they need more quickly so they feel informed
improve the information we gather during a needs assessment
improve reviews for EHC plans so that they support progress towards outcomes and plan for the future
improve the EHC plan document so it's easier to understand
What we've done
We've been working and collaborating with families, professionals and our partners to make improvements.
These are the things we've been working on with them:
Progress tracker for a needs assessment for an EHC plan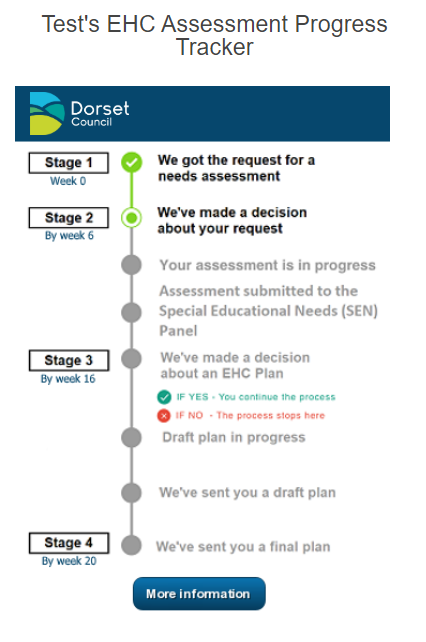 This tracker helps parents, carers and SENCOs keep up to date with what's happening. Our system delivers the tracker updates by text message and/or by email
Letters to parents
We've changed our letters to make them clearer and more accessible. We've removed the jargon and made them less formal.
How we ask parents for their views
We've worked with parents to create a new 'Summary of parent and carer views' form. This is one of the main ways parents and carers tell us about their child during the assessment process.
Information on our Local Offer
We've reviewed the information about EHC plans on our Local Offer. We've created new pages so that we can give parents the information they need to help their child. One example of this is the page about the review for an EHC plan,
SEND newsletter
We've introduced a monthly SEND email newsletter to keep people up to date with developments and any changes in SEND.
How we work with professionals during a needs assessment
We've been working with health and social care colleagues to improve the information and advice we receive so that we can make better decisions and have better EHC plans.
How to keep our EHC plans at a good standard
We're now regularly auditing our EHC plans to make sure we're identifying what needs to be improved and where we need to make changes.
What else is happening now
Review of EHC plans
We're working with parents, professionals and educational settings to look at the review process and how we can make it better. The feedback we've had so far means we're focussing on:
preparation for the review and guidance documents
the review meeting in the person-centred format
The EHC plan document
We're working to improve the EHC plan document so it's clearer, easier to understand and more accessible. We've held workshops with parents, professionals and educational settings and as a results we're creating design ideas to work on.
Local Offer development
We're going to continue to develop the information on the Local Offer. The next area we'll be working on is preparing for adulthood and the transition from being a teenager to becoming an adult. Involving families and young people will be an important part of this work.
Contact us in the SEND Team if you're interested in working with us to make more improvements.
Find out more