In March 2019 Dorset Council, in partnership with the Weymouth Area Development Trust, were successfully awarded £3.79 million from the Coastal Communities Fund. This bid was submitted on behalf of the Weymouth Coastal Community Team.
This money will help fund the Weymouth Quay Regeneration Project, aiming for completion in 2021. The project presents an ideal opportunity to develop a run-down brownfield site and kick start economic regeneration by supporting small and medium businesses in Weymouth.
It will include development of a Centre of Excellence for business and enterprise for coastal town small-medium enterprises, creating new work spaces, training facilities and providing business support and resources.
It will bring a disused area of the harbour into full use will also safeguard our fishing, charter and harbourside enterprises to retain talent within Weymouth. It will also provide access to the waterside for local community and visitors to the area.
This project has been delayed by Covid-19 and some things are now being delivered in different ways, but it is now moving forward at pace.
Autumn 2020 update
While the amount of funding we are contributing to the project remains unchanged, Dorset Council needs to gain best value for money for the local community from the development of the area in the future so they can maximise available funds for post-pandemic priorities. With this in mind, they have determined that building the Centre of Excellence on the Peninsula site needs to be reconsidered. The Board is currently looking for alternative locations for this part of the project.
This review will help keep options open for opportunities to develop both the Peninsula and harbour, and help the CCT Board find premises for the Centre of Excellence that will provide comparable facilities in a location that is more appropriate and doesn't limit potential future development of the surrounding area.
What's being proposed for Weymouth Quay
Weymouth Quay is located on the harbour side edge of the Peninsula, close to the Pavilion Theatre and forms part of the setting of Nothe Fort, which is a Scheduled Monument. The Pavilion Theatre, a popular destination in the town, will be unchanged by the development but surrounded by improved pedestrianised walkways that will hug the waterside and link the award winning beach with the harbour.
New public spaces and improved landscaping for both residents and tourists will help increase visitor numbers which, in turn, will benefit local businesses and safeguard and create more jobs.
The relocation of the existing fish landing quay from its current location, and the introduction of new facilities for fuel will create improved harbour facilities for our fishing industry and harbour businesses. New compound areas will be made available for storing harbour and fishermen materials, including an ice making facility and refrigerated chilled catch store.
Mooring space will be increased with new pontoons attached to the now repaired and strengthened harbour wall and there will be provision of facilities for boat crews (fishing, deep sea angling, charter boats, and sailing visitors) to enable future growth. There will be a new Harbour Building including harbour office and welfare facilities; shower and WC facilities for those using the nearby pontoons; as well as a boat store, forklift store, and secure store as part of the harbour facilities.
This will generate visible activity on the quayside providing a focus point for water and services access for leisure and commercial users.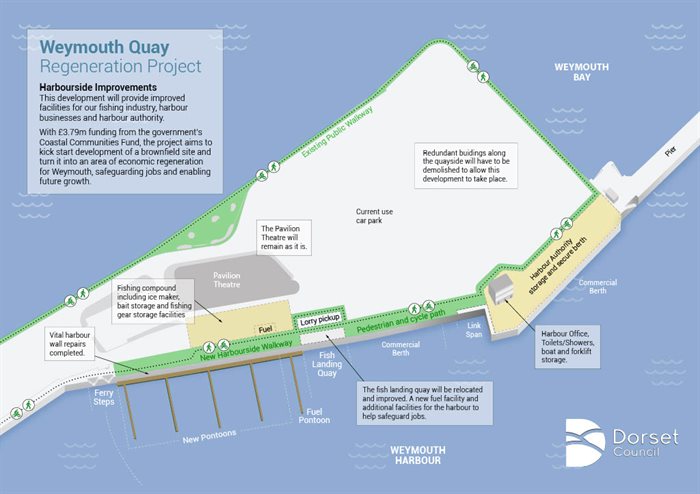 If you require the concept drawing in a different accessible format, please contact us.
About the project
What's happened so far:
financial modelling and appraisal of the funding options and investment proposals
commencement of site clearance to make way for future development
appointment of an architect
Weymouth Quay Regeneration Board has been created with representatives of the Weymouth Coastal Communities Team
creation of two project teams, Dorset Council Project Build Team and a Project Team to develop the Centre of Excellence for SMEs
vital harbour wall repair works, providing a stable base for the quay and improving the flood defences for the town, allowing for future climate change and sea level rises
engagement events took place in November 2019 with harbour users, Weymouth business community and the wider public to share initial thoughts on the development and give the opportunity for feedback
What's happening now:
continuation of site clearance
a Harbour Revision Order has being considered by the Marine Management Organisation (MMO) to modernise and consolidate harbour legislation and improve our ability to manage the harbour. This is now awaiting parliamentary approval
procurement of contractors
design of Centre of Excellence
Next steps:
construction of Quayside
renovation of Centre of Excellence
Project timeline
Spring 2019 - awarded funding from Coastal Communities Fund
Summer 2019 - project planning and set up
Autumn 2019 - architect appointed (Austin-Smith: Lord)
Autumn and Winter 2019 - harbour wall repairs near ferry steps on site
Winter 2019/20 - development of design
Spring to Summer 2020 – Covid-19 project delayed
Winter 2020 to Autumn/Winter 2021 - construction of Quayside improvements and Centre of Excellence
Autumn/Winter 2021 – phased opening of Harbour Facilities and Centre of Excellence
Get project updates
Sign up to the Working for Weymouth e-newsletter for project updates.
Updates will also be posted in the Dorset Council Newsroom and on Twitter.
Get in touch
You can contact us with comments or questions by email: