We have increased our budget for the 2021-22 financial year to £312.4 million, from £304 million last year. The annual budget pays for all the services the council provides to residents, communities and businesses.
Impact of COVID-19
2020-21 was particularly challenging. Like most councils across the country, we faced significant financial pressure due to extra expenditure related to the COVID-19 pandemic. This included support for vulnerable residents through a range of services such as adult social care, housing and mental health.
We also incurred extra expenditure on Personal Protective Equipment (PPE) and COVID-secure arrangements, and saw a reduction in income from our car parks, leisure services, business rates and Council Tax.
The financial impact of the pandemic continues. For example, when people who have been seriously ill due to COVID-19 are discharged from hospital, they often require support from us, with adaptations to their home, occupational therapy, and adult social care.
Although the government provided some funding for the additional costs and loss of income, it was not enough to cover it in full.
Financial support
Help is available if you are experiencing financial difficulties or are feeling stressed or worried. Find out about Council Tax support, benefits and other financial help, and who you can talk to.
Looking after our residents
The demand for our services was already rising before the pandemic, with people living longer with complex health needs. Dorset has significantly more older people than many other areas of the country: 29% are aged over 65 compared to 18% in England and 12% in London.
Although Council Tax pays for many services, including waste collection and road maintenance, over half of our spending goes on social care. This supports vulnerable children at risk of neglect or abuse, disabled children and adults, and older people with significant, complex care needs.
Every year, Dorset also sees growing numbers of children diagnosed with special educational needs and disabilities (SEND).
We have a legal duty to provide those vital services: we can't turn away people in need because we can't afford it.
Balancing the budget
Overall, despite considerable additional funding from government, we were significantly overspent at the end of the financial year 2020-21. We covered the increase in expenditure from our reserves. However, reserves are like building society savings; we can only spend them once and doing so reduces our capacity to respond to further unexpected events in future.
Councillors have considered whether we could reduce our expenditure by cutting some or all of our discretionary services. Councillors want to continue providing these important services, but we are looking at ways to deliver them differently, at a lower cost.
Government funding to councils across the country has fallen by 60% since 2010. And here in Dorset we no longer receive a Revenue Support Grant (RSG) from government, although some other councils still do. We also get less income from business rates than councils in more urban areas.
This means that funding for essential local services in Dorset falls more heavily on the shoulders of council taxpayers than in many other counties. We continue to lobby government for a fairer funding deal.
Councillors faced stark choices when setting the budget, and so a total increase of just under 5% in council tax was recommended to safeguard services.
How the budget will be funded
Council Tax increase
Increasing council tax by just under 5%* (just under 2% increase in general Council Tax, and just under 3% to fund adult social care – known as the 'adult social care precept'). This will generate an additional £12m
*This equates to the rate for a Band D property increasing from £1,694.79 to £1,779.39 - an increase of £84.60 for the year, or £1.62 per week.
Pay freeze for staff
0% pay award for staff. For illustration, a 1% cost of living increase would have cost £1m.
Further efficiencies and savings
Further efficiencies and savings, while protecting essential services will save £27.7m.
Better use of our property and assets
We are also working to make better use of our property and assets. This includes selling some buildings which are no longer needed. The income generated through sales will bring in Capital Receipts, which are one-off pots of money that can be invested in new building projects and reduce borrowing costs, but cannot be used to fund the day-to-day running of services.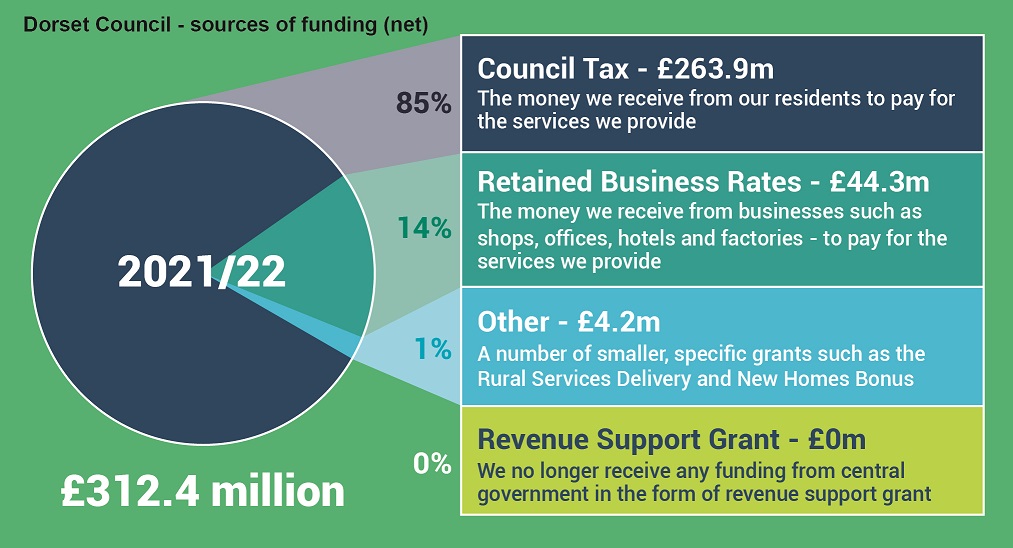 How the budget is funded

| Source of funding | Budget / percentage | Description |
| --- | --- | --- |
| Council Tax | £263.9m (85%) | The money we receive from our residents to pay for the services we provide |
| Retained Business Rates | £44.3m (14%) | The money we receive from businesses such as shops, offices, hotels and factories, to pay for the services we provide |
| Other | £4.2m (1%) | A number of smaller, specific grants such as the Rural Services Delivery and New Homes Bonus |
| Revenue Support Grant | £0 (0%) | We no longer receive any funding from central government in the form of revenue support grant |
How the budget will be spent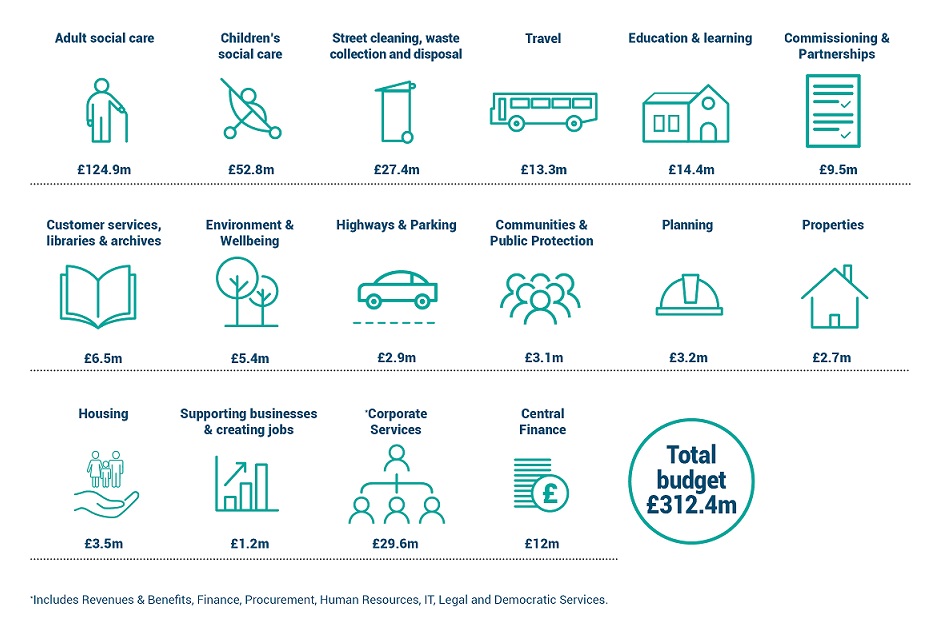 How the budget is spent

| Service | Budget |
| --- | --- |
| Adult social care | £124.9m |
| Children's social care | £52.8m |
| Street cleaning, waste collection and disposal | £27.4m |
| Travel | £13.3m |
| Education and learning | £14.4m |
| Commissioning and partnerships | £9.5m |
| Customer services, libraries and archives | £6.5m |
| Environment and wellbeing | £5.4m |
| Highways and parking | £2.9m |
| Communities and public protection | £3.1m |
| Planning | £3.2m |
| Properties | £2.7m |
| Housing | £3.5m |
| Supporting businesses and creating jobs | £1.2m |
| Corporate services | £29.6m |
| Central finance | £12m |
| Total budget | £312.4m |
Adult social care authorities
The Secretary of State made an offer to adult social care authorities. ("Adult social care authorities" are local authorities which have functions under Part 1 of the Care Act 2014, namely county councils in England, district councils for an area in England for which there is no county council, London borough councils, the Common Council of the City of London and the Council of the Isles of Scilly.)
The offer was the option of an adult social care authority being able to charge an additional "precept" on its council tax without holding a referendum, to assist the authority in meeting its expenditure on adult social care from the financial year 2016-17. It was originally made in respect of the financial years up to and including 2019-20. If the Secretary of State chooses to renew this offer in respect of a particular financial year, this is subject to the approval of the House of Commons.