We have increased our budget for the 2022-23 financial year to £331.6 million, from £312.4 million the previous year. The annual budget pays for all the services the council provides to residents, communities and businesses.
Impact of COVID-19
Like most councils across the country, we faced significant financial pressure due to extra expenditure related to the COVID-19 pandemic. This included support for vulnerable residents through a range of services such as adult social care, housing and mental health.
We also incurred extra expenditure on Personal Protective Equipment (PPE) and COVID-secure arrangements.
The financial impact of the pandemic continues. For example, when people who have been seriously ill due to COVID-19 are discharged from hospital, they often require support from us, with adaptations to their home, occupational therapy, and adult social care.
Although the government provided some funding for the additional costs and loss of income, it was not enough to cover it in full.
Financial support
Help is available if you are experiencing financial difficulties or are feeling stressed or worried. Find out about Council Tax support, benefits and other financial help, and who you can talk to.
Looking after our residents
The demand for our services was already rising before the pandemic, with people living longer with complex health needs. Dorset has significantly more older people than many other areas of the country: 29% are aged over 65 compared to 19% in England and 12% in London.
Although Council Tax pays for many services, including waste collection and road maintenance, nearly two thirds of our spending goes on social care. This supports vulnerable children at risk of neglect or abuse, disabled children and adults, and older people with significant, complex care needs.
Every year, Dorset also sees growing numbers of children diagnosed with special educational needs and disabilities (SEND).
We have a legal duty to provide those vital services.
Balancing the budget
Government funding to councils across the country has fallen by 60% since 2010. And here in Dorset we no longer receive a Revenue Support Grant (RSG) from government, although some other councils still do. We also get less income from business rates than councils in more urban areas.
This means that funding for essential local services in Dorset falls more heavily on the shoulders of council taxpayers than in many other counties. We continue to lobby government for a fairer funding deal.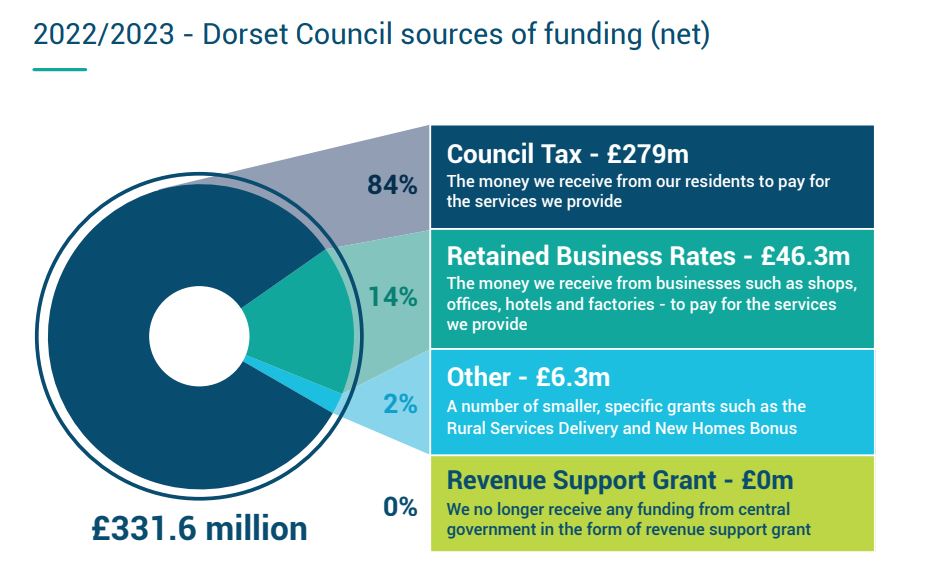 How the budget is funded

| Source of funding | Budget / percentage | Description |
| --- | --- | --- |
| Council Tax | £279m (84%) | The money we receive from our residents to pay for the services we provide |
| Retained Business Rates | £46.3m (14%) | The money we receive from businesses such as shops, offices, hotels and factories, to pay for the services we provide |
| Other | £6.3m (2%) | A number of smaller, specific grants such as the Rural Services Delivery and New Homes Bonus |
| Revenue Support Grant | £0 (0%) | We no longer receive any funding from central government in the form of revenue support grant |
How the budget is spent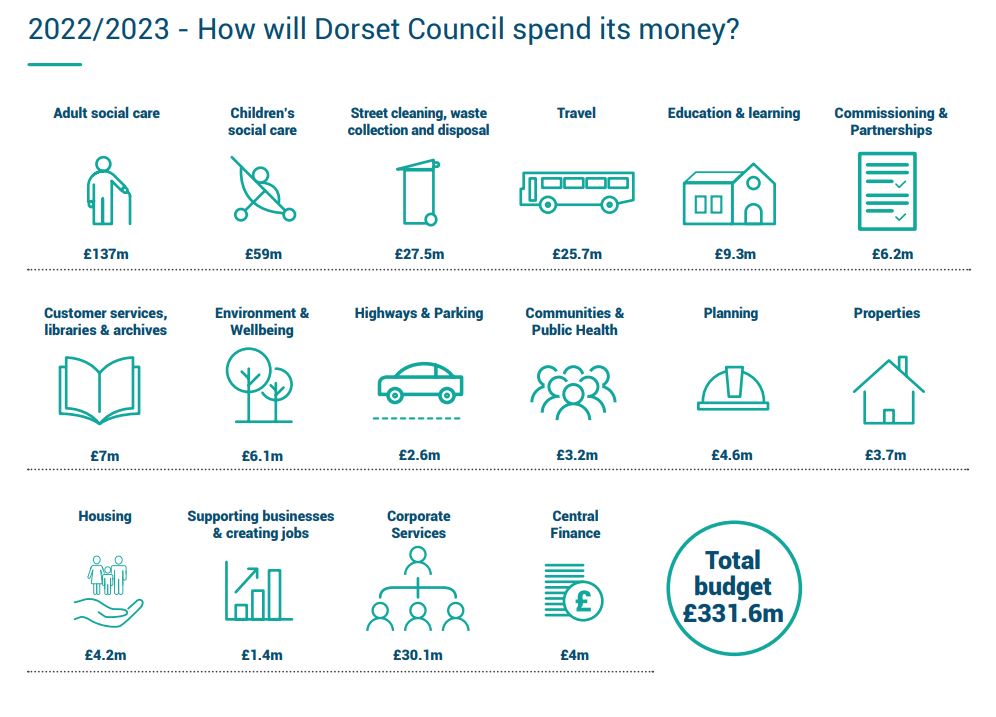 How the budget is spent

| Service | Budget |
| --- | --- |
| Adult social care | £137m |
| Children's social care | £59m |
| Street cleaning, waste collection and disposal | £27.5m |
| Travel | £25.7m |
| Education and learning | £9.3m |
| Commissioning and partnerships | £6.2m |
| Customer services, libraries and archives | £7m |
| Environment and wellbeing | £6.1m |
| Highways and parking | £2.6m |
| Communities and public protection | £3.2m |
| Planning | £4.6m |
| Properties | £3.7m |
| Housing | £4.2m |
| Supporting businesses and creating jobs | £1.4m |
| Corporate services | £30.1m |
| Central finance | £4m |
| Total budget | £331.6m |
What this includes
Corporate services include the Revenues and Benefits service, Finance, Procurement, Human Resources, IT, Legal and Democratic Services.
For Central finance the budget is predominantly the cost of:
capital financing (essentially to repay debt incurred in respect of capital expenditure financed by borrowing)
contingency - this is a budget set up for unforeseen circumstances
retirement costs
grant income that is held centrally by the council
precepts that are paid for flood defences and inshore fisheries