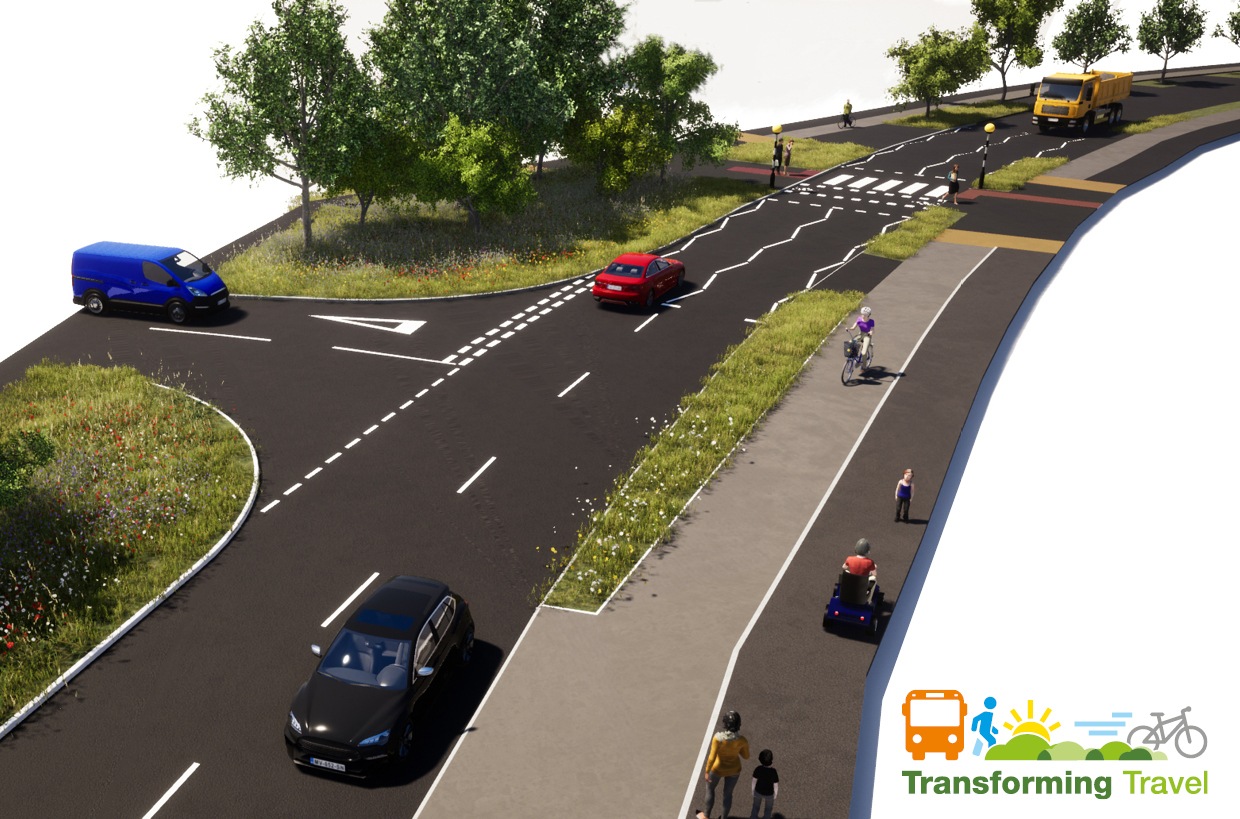 Sustainable transport link
The B3073 Leigh Road was previously part of the strategic east/west route across Dorset before the A31 was built. This project aims to create more of a neighbourhood community road rather than the feel of a trunk road and will help residents to enjoy the area more on foot or other means such as bike, scooters, mobility scooters and wheelchairs.
This scheme provides a safe, sustainable transport link between residential areas, employment (such as Ferndown Industrial Estate), leisure facilities and schools, as well as linking to proposed new developments and community facilities in Wimborne. Previously, people choosing to ride a bike had to travel on the busy road – which carries around 12,600 vehicles a day – or were being forced to use the pavements.
It will link with existing National Cycle Networks (via the Castleman Trailway) and further proposed schemes on Wimborne Road West and East, Ham Lane and beyond to provide a continuous, attractive network for people on bikes to key destinations.
The cycleways
The cycleways are on both the north and south side of Leigh Road/Wimborne Road West from Brook Road to Canford Bottom Roundabout, a distance of 2.3km.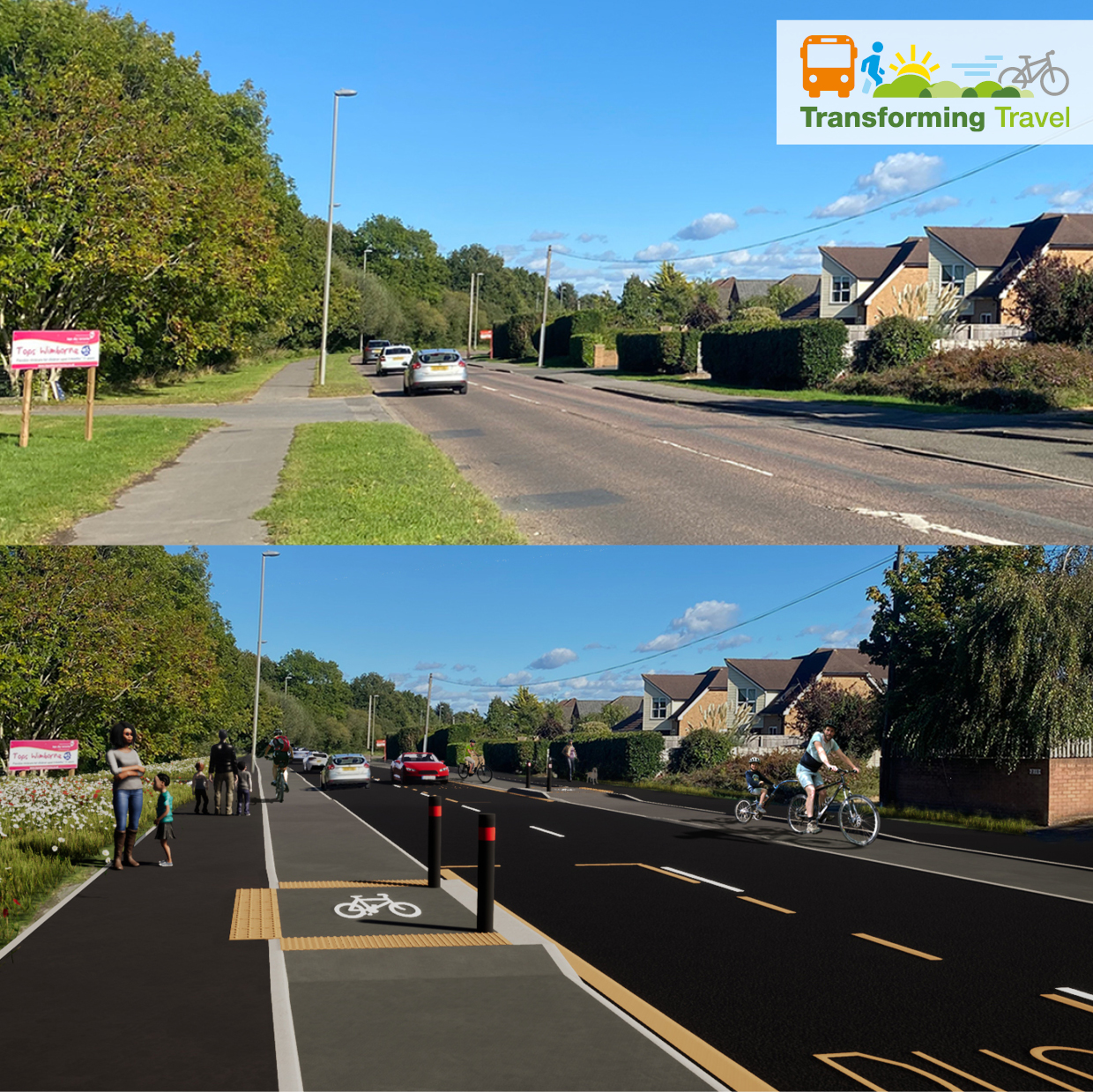 The speed limit has been reduced to 30mph to improve safety for everyone and reduce noise levels. We have taken advantage of all opportunities to increase greenspace within the scheme to improve the streetscape.
Providing a dedicated space for cycling improves conditions for both cyclists and pedestrians, who benefit from an enhanced footway width and new surface (in places).
New parallel crossings
Two new parallel crossings on Leigh Road form part of the scheme. The design of these are a first for Dorset highways. They are essentially zebra crossings with an additional area for bikes to safely cross the road without delaying drivers longer than necessary. This avoids long waiting times associated with signalised crossings.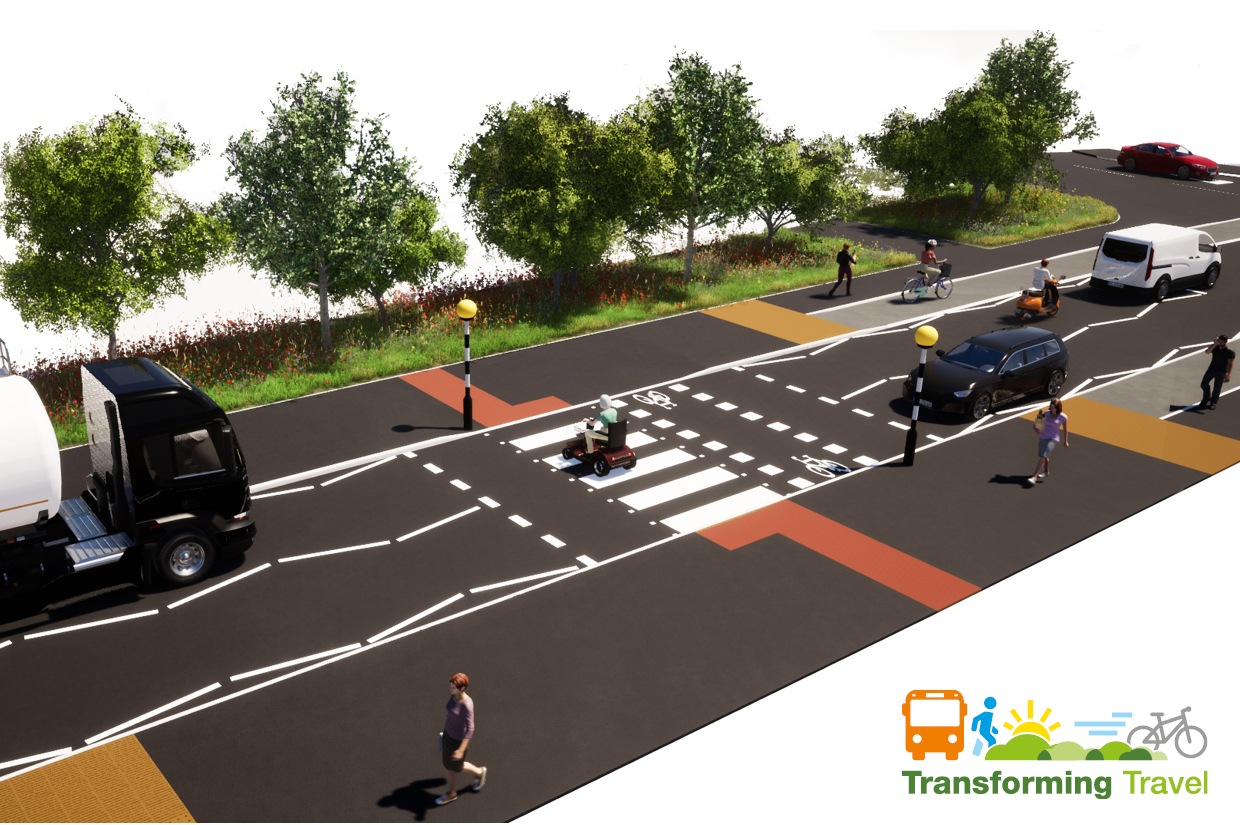 'Activation Project' – paths for everyone
In 2018, Leigh Road was included as an 'Activation Project' in the Paths for Everyone report published later that year. As a result of this, funding was secured through Sustrans to deliver improvements for people wanting to ride bikes along the National Cycle Network at Leigh Road.
Subsequently, TCF emerged and the scheme was identified as a critical link in local cycle infrastructure for commuters as well as people using the National Cycle Network, and it became part of one of the TCF corridors. The additional funding has enabled a better scheme to be designed, with the higher standards expected for cycle schemes as recently further reinforced by the release of Gear Change and new design standards.
Location of works
See the location of works from Canford Bottom roundabout to Hayes Lane, and from Hayes Lane to Brook Road. To view in large, select an image:
Schedule of works
Completed
new, continuous 2.3km footpaths and cycle lanes from the Canford Bottom roundabout to the junction with Brook Road. Some sections have one-way cycle lanes on either side of the road, and other sections have a two-way cycle lane on one side of the road.
3 new crossings, 2 of which are parallel crossings that allow both pedestrians and cyclists to cross at the same time
significant improvements made to the bus stops along the road with raised kerbs to help with access to buses
a reduction in the speed limit from 40mph to 30mph to make the road safer for drivers, cyclists and pedestrians
junction improvements along Leigh Road giving priority to people walking and cycling around the area
the resurfacing of the entire road from Canford Bottom Roundabout to the Brook Road Junction with all potholes filled and repaired
wildflower seeding
Watch a video showing the improvements.
Remaining work
A short section of the walking and cycle paths on both sides of Leigh Road at the junction with Lonsdale Road will be completed later this year. The developer is constructing a new signal-controlled junction at this location which forms the entrance to its Quarter Jack Park development. This work will complete these sections and provide safe crossing points over both Leigh Road and Lonsdale Road.
You may also see workers carrying out minor works which relate to remedial actions. These have been identified as part of Dorset Council's project closure process.
Respecting the natural environment
The design of the scheme considered the local natural environment.
In building the cycleway, some of the existing verge has been de-registered. A compensatory area of open space at BytheWay Field has been designated as Common Land in its place. The effect of this is to maintain the existing stock of Common Land.
Additional artist's impressions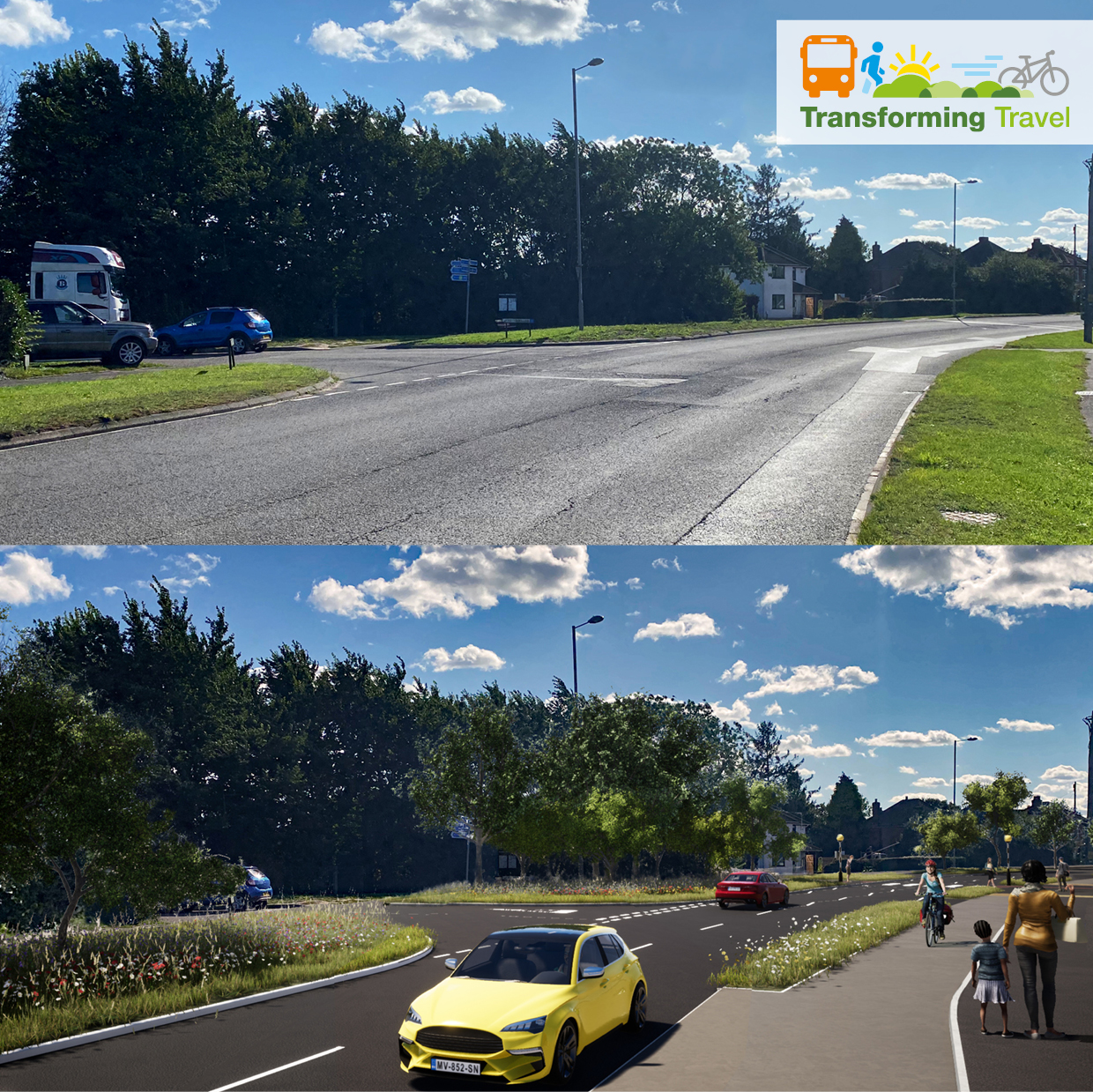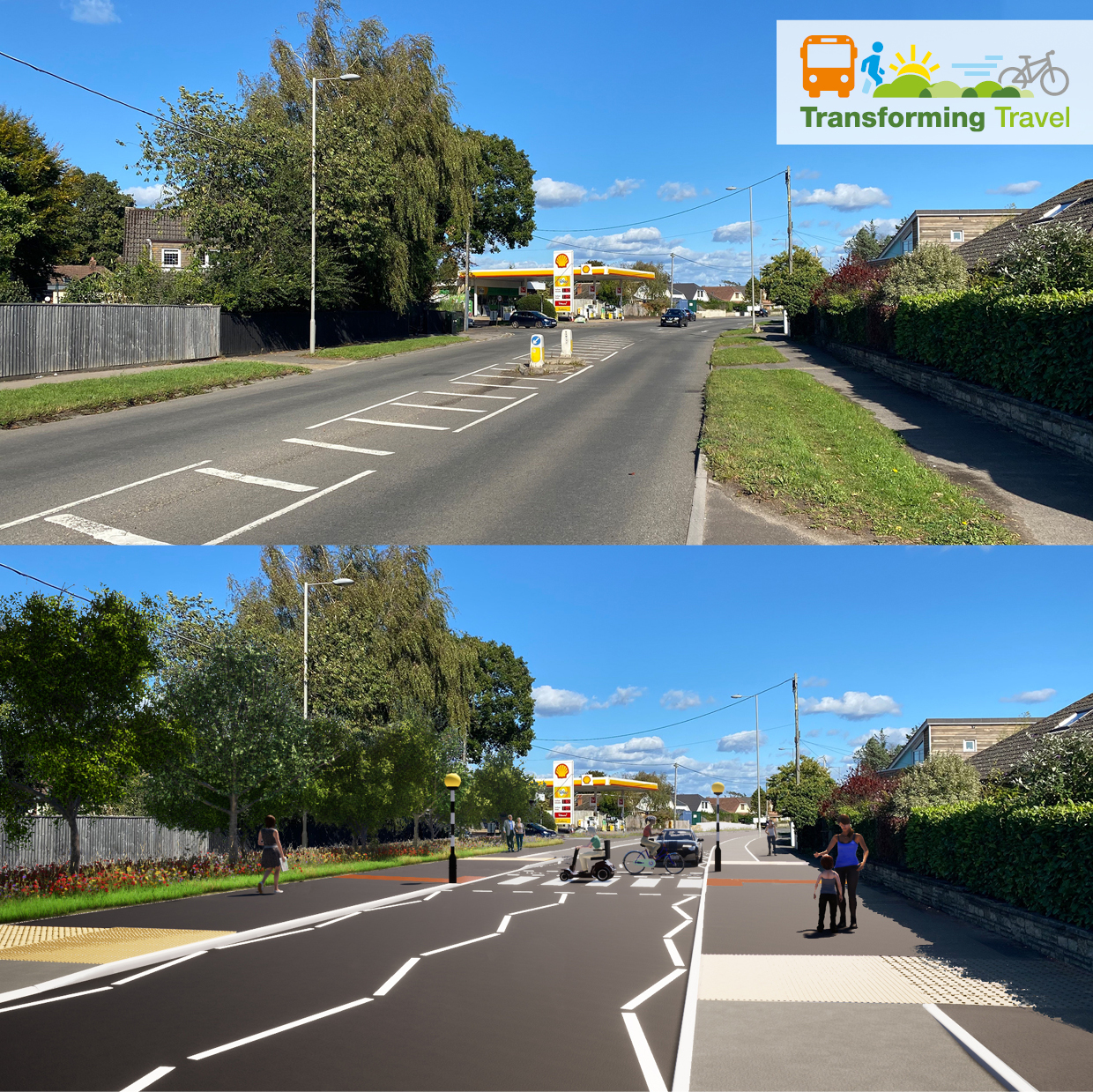 Consultations
In 2019, SUSTRANS held a meeting at Wimborne Town Council offices attended by members and representatives from key local groups, to discuss a proposed cycleway. In July 2019, several pop-up consultation stands were set up adjacent to some of the local schools at drop-off and pick-up time, in Wimborne Town Square and at the car park adjacent to By-the-Way Field.
A leaflet was posted to local residents, with full details of the scheme in November 2020.
Contact