The junction of Parmiter Drive and Leigh Road will be closed for 4 days from 6 to 9 December while we construct and surface the revised junction layout. A diversion will be in place using Parmiter Way and Parmiter Road for this period.
The Transforming Cities Fund
In March 2020, Dorset Council and BCP Council were awarded £79m by the government under their Transforming Cities Fund (TCF) scheme. Dorset Council and BCP Council were one of only 12 city regions in England to secure a share of this funding. The TCF aims to improve productivity and prosperity through investment in public and sustainable transport in some of the largest English city regions. You can find out more about that here.
As part of the TCF investment, Dorset Council will be building 2.3km of new cycle and walking improvements along Leigh Road and Wimborne Road West in Wimborne and Colehill, between Brook Road and Canford Bottom Roundabout. Full details about the improvements being made are detailed here.
This is the first project under the £100m + TCF funded programme, which itself will be the largest ever investment in sustainable transport infrastructure in the south east Dorset city region.
Information about the schedule of works along Leigh Road/Wimborne Road West are given here. However, if you have specific questions about this project, you can contact the Dorset Council Transforming Travel project team.
These improvements aim to make this area a cleaner, greener, healthier place to live, work, and visit. The scheme aims to reduce traffic by providing safe alternatives to the car and improve the user experience for everyone.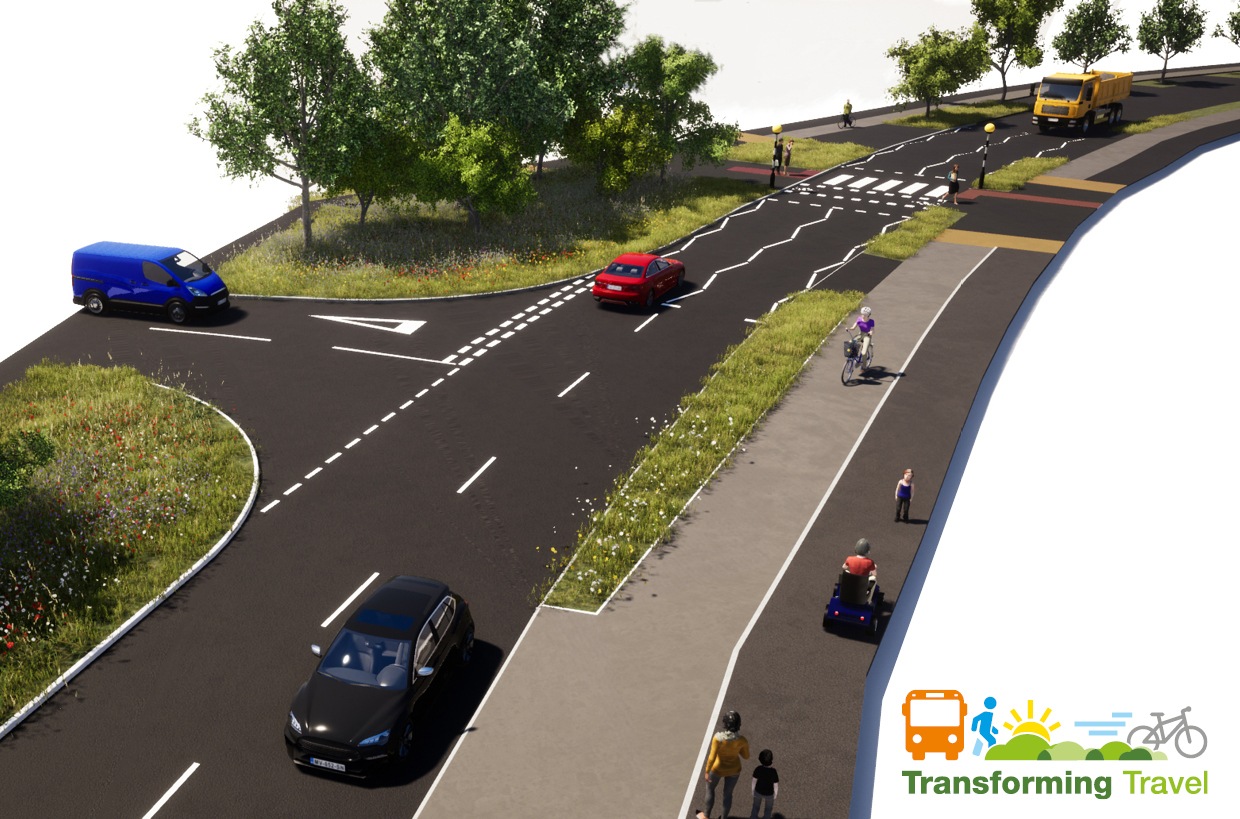 Sustainable transport link
The B3073 Leigh Road was previously part of the strategic east/west route across Dorset before the A31 was built. This project aims to create more of a neighbourhood community road rather than the feel of a trunk road and will help residents to enjoy the area more on foot or other means such as bike, scooters, mobility scooters and wheelchairs.
This scheme will provide a safe, sustainable transport link between residential areas, employment (such as Ferndown Industrial Estate), leisure facilities and schools, as well as linking to proposed new developments and community facilities in Wimborne. Currently, people choosing to ride a bike have to travel on the busy road – which carries around 12,600 vehicles a day – or are being forced to use the pavements.
It will link with existing National Cycle Networks (via the Castleman Trailway) and further proposed schemes on Wimborne Road West and East, Ham Lane and beyond to provide a continuous, attractive network for people on bikes to key destinations.
The cycleways
The cycleways will be on both the north and south side of Leigh Road/Wimborne Road West from Brook Road to Canford Bottom Roundabout, a distance of 2.3km.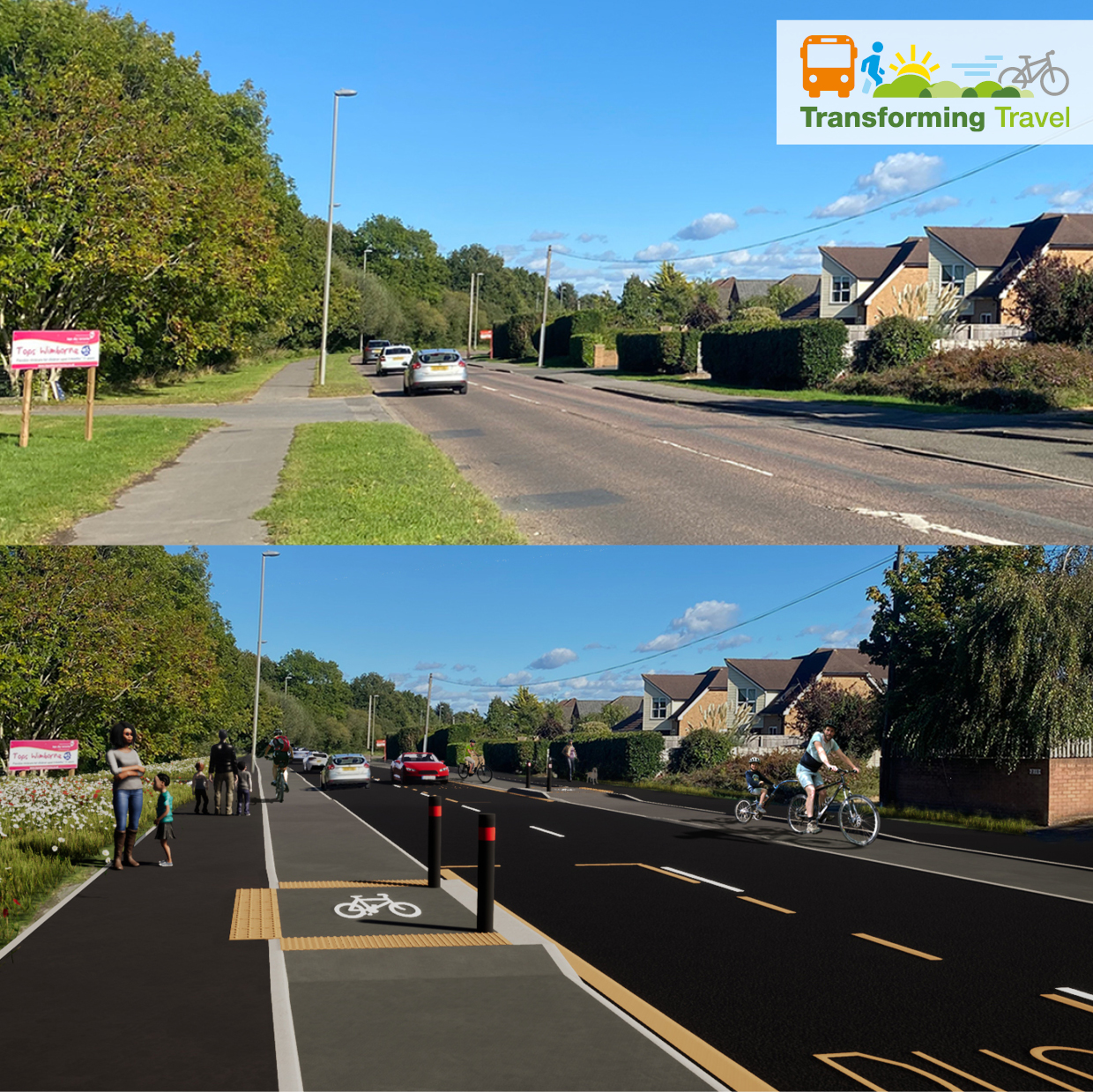 The speed limit will be reduced to 30mph from 18 January to improve safety for everyone and reduce noise levels. We are taking advantage of all opportunities to increase greenspace within the scheme to improve the streetscape.
Providing a dedicated space for cycling will improve conditions for both cyclists and pedestrians, who will benefit from an enhanced footway width and new surface (in places).
New parallel crossings
Two new parallel crossings on Leigh Road form part of the scheme. The design of these are a first for Dorset highways. They are essentially zebra crossings with an additional area for bikes to safely cross the road without delaying drivers longer than necessary. This avoids long waiting times associated with signalised crossings.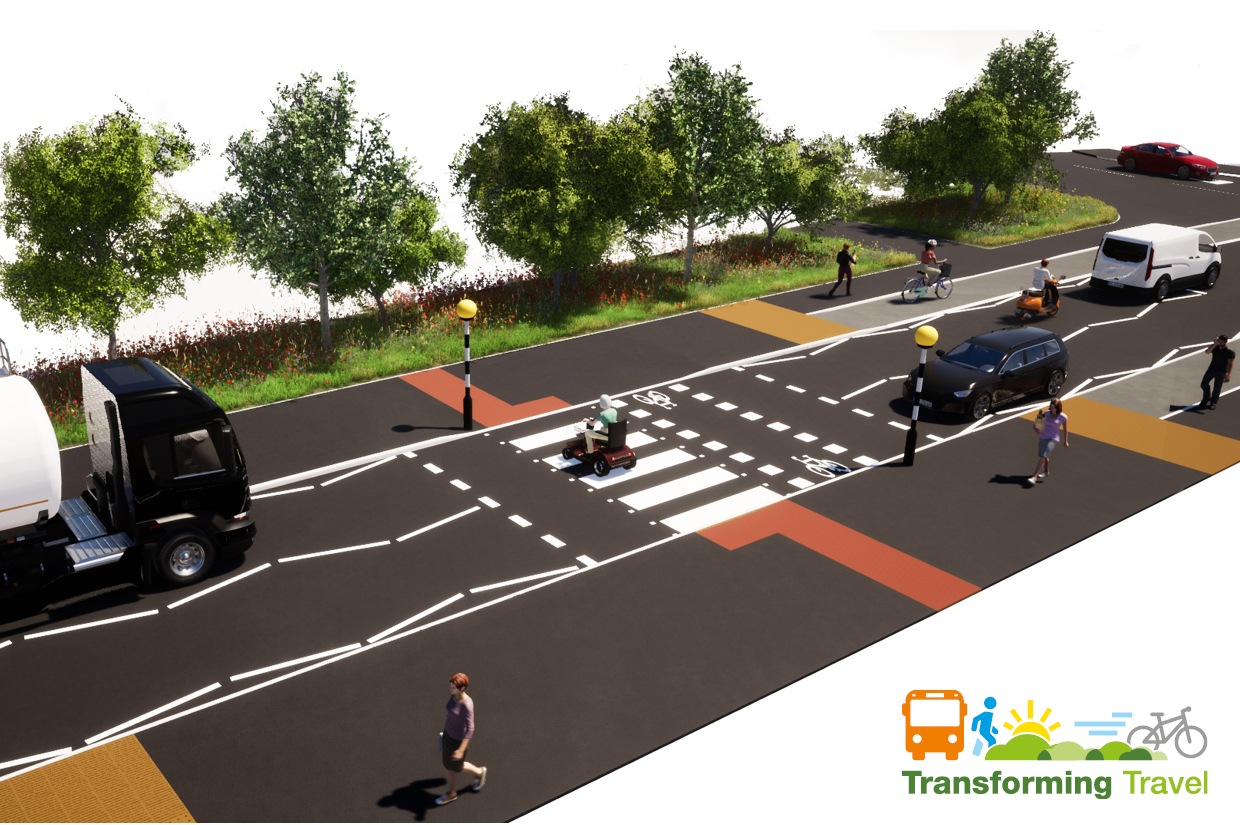 'Activation Project' – paths for everyone
In 2018, Leigh Road was included as an 'Activation Project' in the Paths for Everyone report published later that year. As a result of this, funding was secured through Sustrans to deliver improvements for people wanting to ride bikes along the National Cycle Network at Leigh Road.
Subsequently, TCF emerged and the scheme was identified as a critical link in local cycle infrastructure for commuters as well as people using the National Cycle Network, and it became part of one of the TCF corridors. The additional funding has enabled a better scheme to be designed, with the higher standards expected for cycle schemes as recently further reinforced by the release of Gear Change and new design standards.
Location of works
See the location of works from Canford Bottom roundabout to Hayes Lane, and from Hayes Lane to Brook Road. To view in large, select an image:
Schedule of Works
To speed up the work and minimise disruption, separate road gangs will be working on sections up to 400m long at different locations along the route. Businesses and residents located directly alongside the works will receive notification letters around two weeks before we move to the construction section their property is within. These works will require the use of temporary traffic light control.
See the current sequence of works; dates will be updated once each section gets underway, this will also include information about any delays during construction.
Completed
the reduction of the speed limit from 40mph to 30mph along the whole length of Leigh Road and Wimborne Road West
Canford Bottom Roundabout to Stapehill Crescent East
Fernway Crescent and Summerfield Close
Brook Road Junction area – signals were commissioned 27 May 2021
Stapehill Crescent East to Stapehill Crescent West
Summer Field Close to Park Farm Cottages
Hayes Lane to opposite The Quarter Jack Park Development
Stapehill Crescent West to opposite Fernway Close
Henbest Close to Old Ham Lane
opposite Fernway Close to Hayes Lane
Old Ham Lane to Fernway Close
carriageway resurfacing form Old Ham Lane to The Quarter Jack Park Development
Under construction
Quarter Jack Park Development to Bytheway Field - expected completion November 2021
Bytheway Field to Northleigh Lane - expected completion December 2021
Brook Road junction to Nortleigh Lane – expected completion December 2021
opposite Bytheway Field to Parmiter Road – expected completion early 2022
carriageway resurfacing from the Quarter Jack Park development up to the Brook Road Junction is expected to be carried out early 2022. These will be overnight works requiring overnight road closures
Respecting the natural environment
The design of the scheme has taken into account the local natural environment.
In building the cycleway, some of the existing verge currently designated as Common Land will be de-registered. A compensatory area of open space at BytheWay Field will be designated as Common Land in its place. The effect of this will be to maintain the existing stock of Common Land.
Where there is registered common land, ecological surveys have shown that the mown verges to the south of the road have limited value in terms of plant species or habitat. The scheme has been designed to minimise impact on the more ecologically valuable land on the north side of the road by using more of the lower value land on the south side.
In developing the designs, additional green space and planting have been introduced, including for new trees. What is currently a vehicle dominated road will be enhanced by streetscape improvements.
HGV lorries
HGV lorries will be able to use the route whilst works are taking place. We don't foresee any major interruptions to their journey.
Bus routes
There may be affected bus stop locations throughout the works. Our engineers will liaise with any affected bus companies. Check if there are any route disruptions on Traveline.
Additional artist's impressions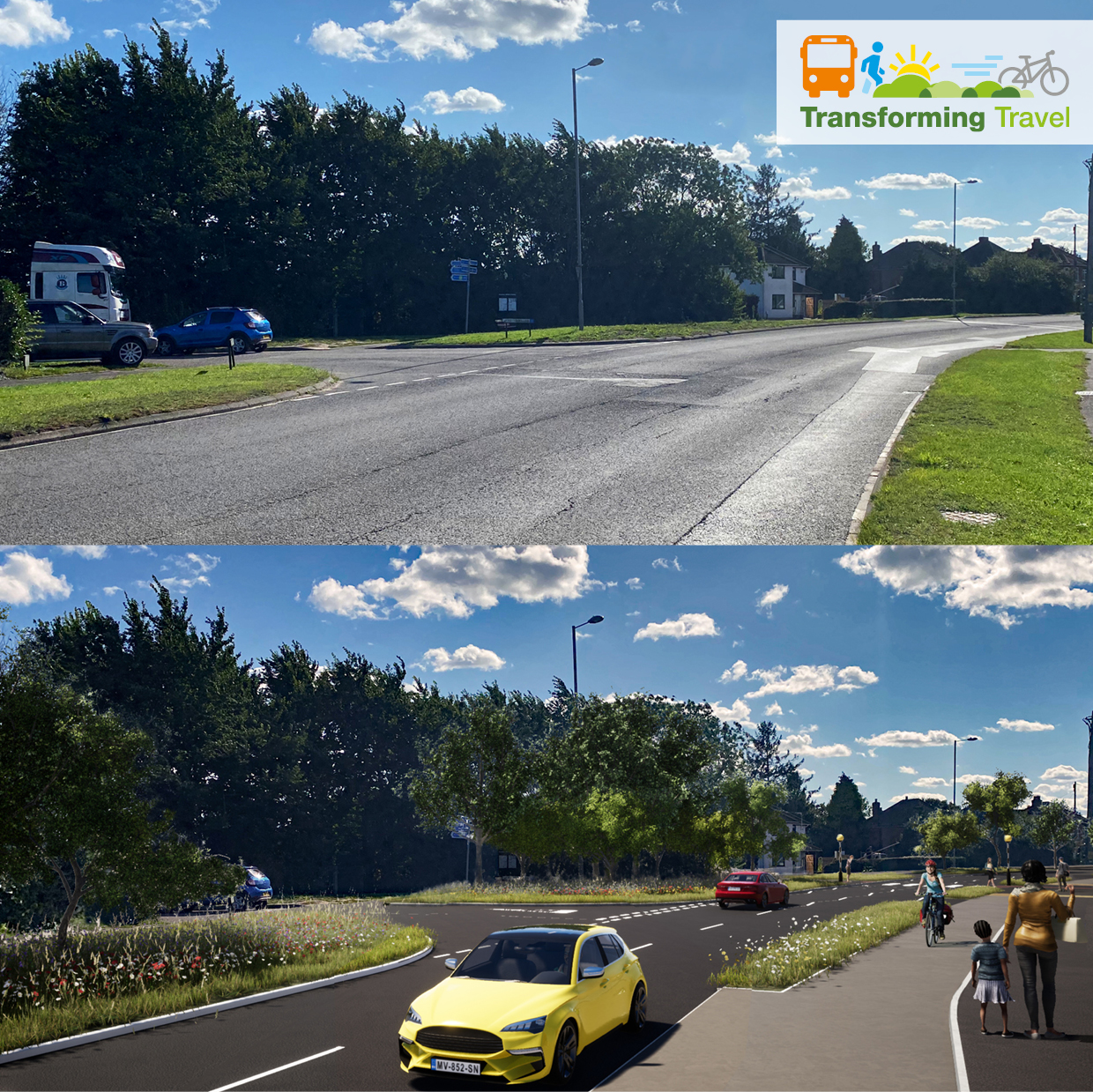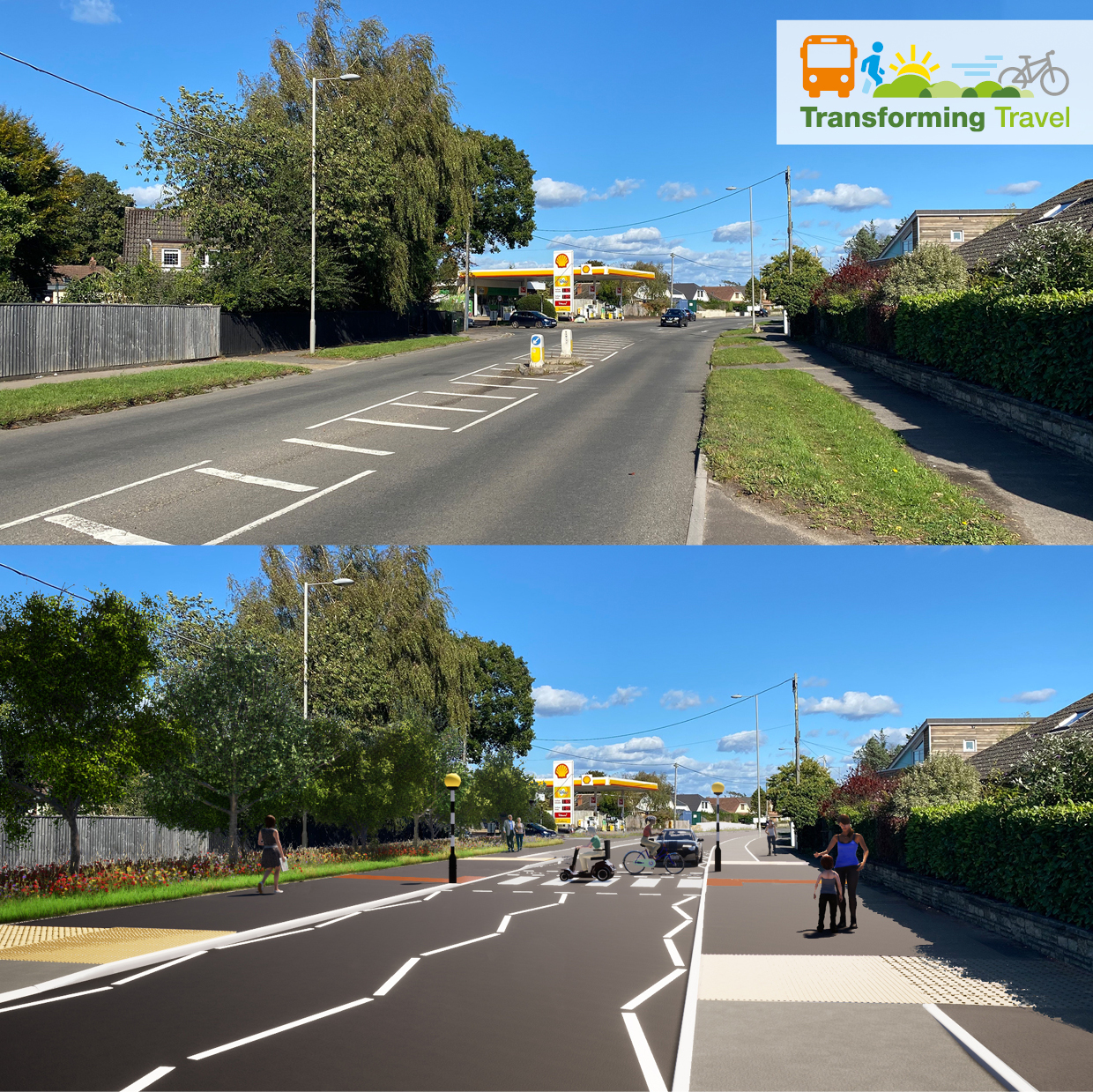 Consultations
In 2019, SUSTRANS held a meeting at Wimborne Town Council offices attended by members and representatives from key local groups, to discuss a proposed cycleway. In July 2019, several pop-up consultation stands were set up adjacent to some of the local schools at drop-off and pick-up time, in Wimborne Town Square and at the car park adjacent to By-the-Way Field.
A leaflet was posted to local residents, with full details of the scheme in November 2020.
Contact