Congratulations to Tilly Baden from Adult Services who was shortlisted at this year's (2019) National Social Work Awards.
The awards were organised by The Social Work Awards charity, which aims to improve public awareness and understanding of social work by showing the positive impact of social workers in the wide range of roles they undertake.
Tilly, a social worker, was selected for Adult Social Worker of the Year. she made it to the final six in her category and received a certificate of recognition. Tilly can be seen on the left in the photo below.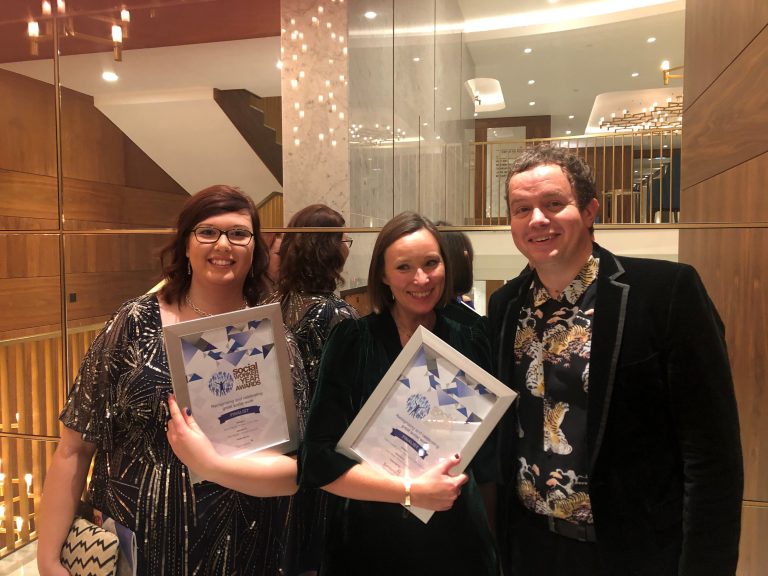 We spoke to Tilly and asked her a few questions about her role
What made you want to become a Social Worker?
I always knew I wanted to work with people, and I wanted to have a career where I could make a positive impact on the lives of others. I have always had a strong sense of social justice and promoting human rights, and the values of the Social Work profession ticked all the boxes for me. Social Workers are in a privileged position in that we have the opportunity to empower and inspire others to live the best lives they possibly can. Although it is often challenging, it is a rewarding vocation where we restore rights and act as voices for those in society whom, for whatever reason, have had their voices taken away.
How did you qualify?
Following the completion of my A Levels, I left sixth form and went straight to the University of Winchester to start my Social Work degree. Some people have been surprised that I went straight into Social Work after school as many people go into Social Work after gaining experience in other areas, but even aged 18, I knew that Social Work was for me and I was excited to start as soon as possible. I really enjoyed my time at Winchester, and the course gave me a solid foundation on which to build my career.
I was fortunate to have two amazing placements as part of my course. My first placement was with Action for Children where I was based across four children's centres providing early help to children under 5 and their families. My second placement was in a Forensic Mental Health team where I was based in a Low Secure Hospital carrying out statutory Social Work and Mental Health Act duties. At both my placements, I had such inspiring and knowledgeable supervisors and mentors who helped me shape my practice and mature from student to Social Worker.
What roles have you had since qualifying as a Social Worker?
My first job as a Newly Qualified Social Worker was in a Referral and Assessment team within Children's Services at (the former) Dorset County Council. Probably the best way to describe this role was as a 'baptism of fire'! It was a very fast paced and busy team, but I was supported to complete my Assessed and Supported Year and Employment (ASYE) and work alongside some truly exceptional Social Workers and colleagues. Having not had a statutory Children's Services placement during my degree, I had to quickly get up to speed with the role of a Child Protection Social Worker and there wasn't much time to pause. However, this taught me to think on my feet, sharpen my decision-making skills and gave me the confidence to manage risk and prioritise my work.
After finishing my ASYE, I decided that I wanted to try a different avenue of Social Work. I applied for a job within Adult Services and I was offered a job in a Community Learning Disabilities Team (CLDT). This role was very different compared to my role in Children's Services, but I enjoyed learning about working with a different group of people and getting to grips with Adult Social Care legislation. It was a steep learning curve, but I quickly learnt that the primary driver when working with adults is around empowering people to be as independent and autonomous as they can be. I soon developed a special interest in the Mental Capacity Act, and I was delighted to undertake my training to become a Best Interest Assessor and check that people who are deprived of their liberty in care homes and hospitals are held lawfully, and their dignity and rights are respected.
After 2 years in the CLDT, I noticed a job advert for the Peripatetic team within Adult Services. Instantly I knew this job would appeal to me. The Peripatetic team (known as peri for short) involved filling staffing and resource gaps in Adult Social Work teams across Dorset. This enables the Social Worker to gain experience in teams and roles across the directorate and share learning and expertise with a wide range of colleagues.
I started in the peri team in September 2018 and I haven't looked back! So far, I've worked on a couple of different projects and help cover for colleagues in several different hospital teams. This is in addition to being part of the BIA rota where I complete a DOLS assessment once every 6 weeks. The first project I was involved in was working with a Learning Disability care provider to de-register several of their residential homes and transform them into new supported living provisions. The project was a great success in ensuring that people had person-centred support that was tailored to their needs, and the changes truly transformed their lives for the better. The other project that I am currently involved in is called the Community Based Opportunities Project where I am working with people to find alternatives to traditional buildings-based day services by getting to the root of what they want to achieve, integrating them with their local communities by sourcing voluntary work and setting up new community groups. It is interesting work which puts strengths-based practice and innovation at the centre.
What do you enjoy about Social Work what are the best things about working for Dorset Council?
The people and the variety! I love hearing people's stories and I'm curious about understanding people's aspirations and motivations. When you get immersed into someone's story, you get a unique perspective into what makes them tick. From this, you can help them build on their strengths to achieve their goals. Social Work is a human profession – we see humanity at it's worst and it's best. No two days are the same, just as no two people are the same. Even when it's messy and tough, knowing that we have the ability to have a positive impact makes it so worthwhile.
Dorset Council has so many fantastic opportunities for Social Workers. I especially value the learning and development offer. With Dorset, I have completed additional master's level modules through Bournemouth University in risk and decision making as well as my Best Interest Assessor training. Barely a week goes by when there isn't an interesting and informative learning event or training course to access. Whatever your aspirations, Dorset will support you to achieve your career goals.
I also think that Dorset's focus on employee wellbeing is very strong. Dorset has embraced flexible working and has a great technology offer which enables staff to work when and where it suits us. There are tons of social and charitable events which employees across the council can get involved in. It may sound cheesy but working for Dorset feels like we're part of one big family. People across all the directorates are all working towards a common goal – ensuring Dorset residents live the best lives they can. It's great to be part of that. Dorset is a beautiful county and the green spaces, picturesque countryside and vibrant seaside make Dorset a great place to live and work.
What are the challenges and how do you overcome them?
It's no secret that Local Authorities have ever increasing financial pressures and the negative impact of austerity continues to be felt across the population we serve. Health and Social Care services are under enormous pressures following ongoing funding and resource cuts, lack of preventative services, an ever-increasing population, poverty and health inequalities, a lack of suitable care services and depleting numbers of hospital beds. Social Workers are having to do a lot more with less, and that is not easy. However, when faced with these challenges, I've found it helpful to focus on what we have got; as opposed with what we haven't got.
We have some incredible technology available these days which is helping people to stay connected and remain independent for longer. Dorset has recently unveiled a Technology Lounge where people can come in and test out different pieces of technology to see what works for them. There are also opportunities to commission services in a smarter way by connecting individuals with one another and providing more joined up services. Creative Community Social Work is making a comeback and Dorset are certainly embracing this approach. Community Catalysts, micro-enterprises, using nature to promote wellbeing and increasing volunteering opportunities are just some of the ways that Dorset are tackling these challenges.
You were recently nominated for the national 'Social Worker of the Year' Award. A huge congratulations! How did it feel to be nominated?
Thank you! I am incredibly humbled and honoured to have been nominated for this award. The support I have received from my Dorset Council colleagues has been overwhelming and I am so grateful to be recognised in this way. I truly love my job, and I couldn't imagine doing anything different. I would like to say a special thank you to Steve Crocker and Linzi Gow for nominating me, as well as to Matthew Kendall, Sue Evans, Julia Ingram, Andrea Breen and Councillor Laura Miller for their support.
What advice would you give to anyone interested in becoming a Social Worker or returning to practice?
I always say that the key to good Social Work are the 3 C's – Communication, Connection and Compassion. If this fits with your value base, the Social Work may well be for you! I think it's a good idea to get as much work experience in related fields as possible. Any experience that helps you to develop your communication skills, build connections with others and show that you can practice in a compassionate way is going to stand you in excellent stead for your Social Work career.
It's also a good idea to stay up to date with current affairs as Social Work and politics are intrinsically linked. Immerse yourself in reading. Community Care, Social Care Institute for Excellence and Research in Practice for Adults have some great resources which will help enhance your knowledge. There are also many great blogs and podcasts about Social Work out there too. I'm one of the co-hosts on the Social Work Tutor Podcast – so check it out if you want to learn more about the profession!
Search and apply for jobs in adult social care