Limestone hills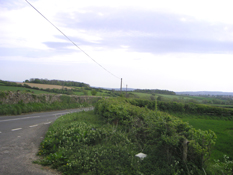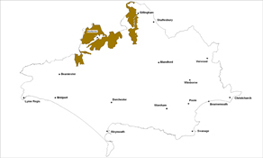 Location
The Limestone Hills landscape type is found across the northwestern corners of the county, extending north into Wiltshire and Somerset.
Key Characteristics
varied landform due to the complex geological structure
diverse scenery with mixed farmland, dense hedgerows, stonewalls, and some steep wooded slopes
expansive generally open landscape but with some deep, enclosed and narrow valleys
many scattered farmsteads and villages
distinctive build environment patterns and building materials with the frequent use of the local limestones
some key parkland landscapes and associated features
The Limestone Hills landscape is divided into three main areas; the hills around Melbury Park, the hills and ridges around Sherborne and the shallow north-south ridge between Sturminster Newton and Bourton. Each area has a distinct landform, which contrasts with and subdivides the adjacent Blackmore and Halstock vale landscape of pastures, arable fields, winding lanes and springs. The broken and varied relief is due to the complex geological structure across the area. The scenery is also varied with dense hedges, some steep open grassed slopes as well as wooded and scrub covered slopes and enclosed valleys. There are fewer trees on elevated areas and the mixed farmed fields are larger with more arable than those in the vales. There are open expansive views from these elevated areas. The settlements are defined by the use of the distinctive local yellow limestone with the use of Forest Marble and Cornbrash common, contributing to the areas sense of place. The development pattern of villages either follows the ridgetops, as at Hinton St Mary, Marnhull and Bishops Caundle, in clusters in deep, narrow valley floors, for example at Poyntington and Nether Compton or on the sloping hillsides as at Stalbridge, Buckthorn Weston, Kington Magna and Stourton Caundle. These picturesque limestone villages and their church towers; the manor houses, stately homes and scattered farmsteads are all characteristic in this limestone scenery. Stonewalls, using local limestone, are key features associated with the parkland landscapes.
Management Objectives
The overall management objective for the Limestone Hills Landscape Type should be to conserve the intimate character of the incised valleys and wooded hillsides. Replanting new hedgerow trees, enhancing the management of existing woodland and the conservation of the parkland landscapes are also key objectives.
Key land management guidance notes
conserve the ancient pattern of small irregular pastoral fields and narrow lanes interspersed with irregular patches of woodland
reinforce the wooded character of the limestone slopes
enhance woodland management with small scale planting/natural regeneration of broadleaves along valley sides. Protect the character of important open skylines from future planting
ensure conservation of low impact grassland and protection of associated wildlife and historic features
encourage maintenance of species rich hedgerows, particularly along the valley floors and replant any gaps where necessary. Avoid use of post and wire
conserve and enhance the varied settlement pattern of the different limestone villages and their relationship with the associated surrounding copses/woodlands
promote the conservation and enhancement of existing local limestone stone walls and seek opportunities to link in with new walls to match the existing
maintain the undeveloped character the area e.g. by resisting intrusive developments on sensitive and exposed hillside locations
identify, protect and conserve existing parkland character and associated parkland features such as stonewalls e.g. via Parish Action Plans, Village Design Statements and other Settlement Appraisals