We are working on a new development near Wareham town centre in partnership with:
Dorset Healthcare
Dorset Clinical Commissioning Group (CCG)
The work will be carried out on existing council and NHS land. The development will create homes, jobs and an area for the community to come together.

Brand new health, care and housing facilities are being built for people who live and work in Purbeck. The development will provide state-of-the-art accommodation and services for people with care and support needs of all ages. There will be a focus on housing and services which help people to live as independently as possible, and complex care facilities for those who need it.
Three phases of redevelopment
The first phase of the transformation of the area is complete. Eighteen high quality temporary housing units (relocatable houses) have been placed on the old Middle School site, Worgret Road. Local people with learning disabilities moved in to the units in July 2020.
The second phase of development is transforming the main area of the old Middle School site in Wareham.

The third phase of the project is redeveloping council land on Bonnets Lane, but this is dependent on several other pieces of work happening, including relocation of office-based staff. We would like to be able to provide Extra Care housing, making full use of its location in the heart of Wareham town centre.
Why we're building more homes in Wareham
The population of Purbeck aged 75 or over will increase by 67% over the next 20 years. It is expected the number of 85 year olds and over living with dementia will increase by 92.3%. At present, there is not enough suitable accommodation for older people.
Purbeck, and Wareham in particular, lack sufficient social care accommodation for frail, older people and people with disabilities. There is one residential care home in Wareham. The nearest Extra Care facility (purpose-built accommodation to enable people to live independently, offering residents 24 hour care on-site) is over 15 miles away, in Blandford Forum. To make sure people have choice around where they live and how they are supported, we will do what we can to increase the supply of housing and support in the area.
There is a lack of affordable housing in the Purbeck area for people in keyworker roles, including nurses and social carers, which makes it difficult to recruit for positions in and around Wareham.
There is limited adequate accommodation for young adults with disabilities to move out from home when they want to or to return to the local area after they have been in hospital. The Extra Care and supported living accommodation will give them the chance to play an active role in the local community if they wish and live more independent lives.
The health hub will integrate Wareham hospital with the town's GP practice – creating a more streamlined 'one-stop shop' for local residents.
Proposals for the new development
We gathered feedback from public engagement sessions held in summer 2019 on how to use the land at Wareham Hospital and the former Wareham Middle School site.

We've incorporated this into our proposals to provide:
health and GP services within a new health hub. The hub will host all the services currently available at Wareham Hospital as well as a GP practice. It will have the flexibility to develop additional clinics and services if required
Extra Care housing – the homes are specifically designed to enable people with support needs, mobility difficulties and increasing frailty to continue to live as independently as possible for as long as they want to
supported living accommodation – offering care for adults with disabilities
affordable houses to rent, for key workers in health and social care professions in Purbeck
a new nursing home with community facilities/space
recreational areas and community facilities, including opportunities to transform how people with care and support needs spend their day
The plans
Since our public engagement events in 2019, we have undertaken a considerable amount of work to understand planning constraints and site issues for the three pieces of land in the area. We have also taken on board the comments and feedback given by people during the engagement sessions.
The preferred masterplan we intend to take forward provides the Health Hub, Nursing Care home and some housing on the former Wareham Middle School Site. Completion of this phase will allow our Health partners to relocate their services into the Health Hub, releasing the current hospital site for redevelopment.
Our concepts for this site focus on housing – creating a mixed development of private sector houses and affordable social housing.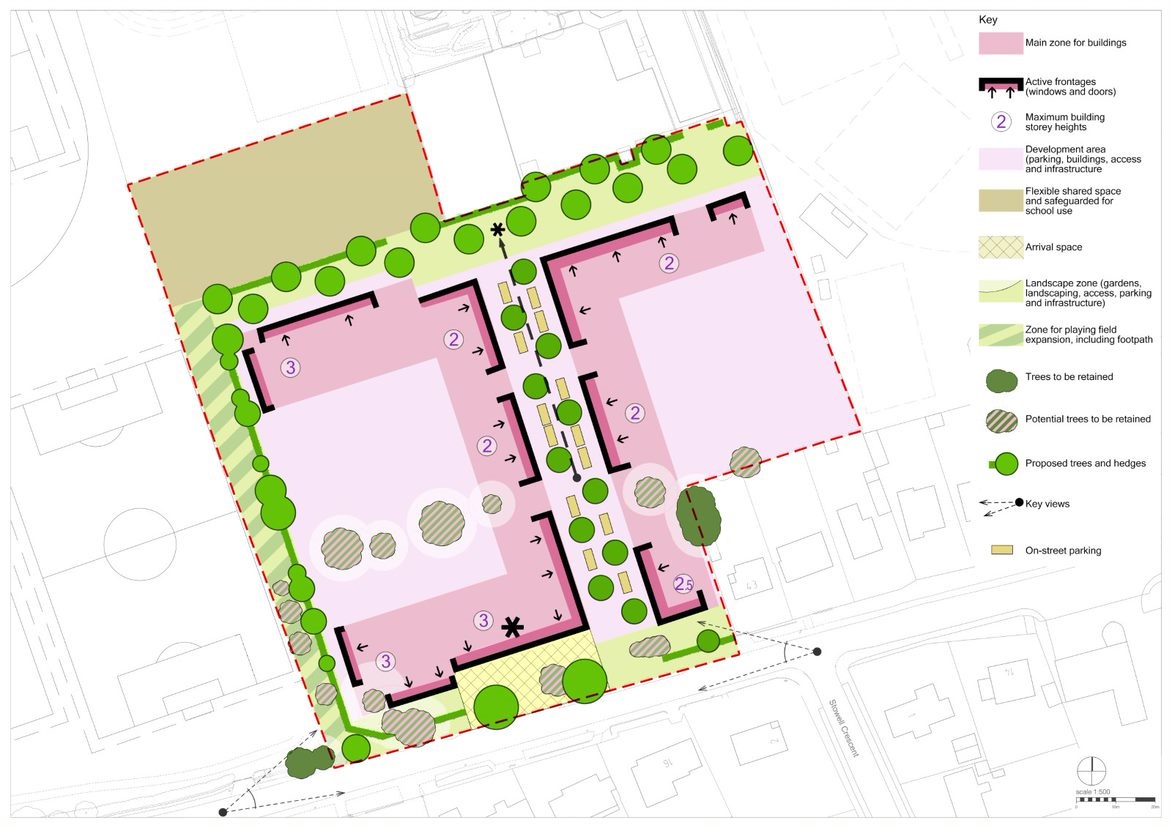 Health hub and GP surgery

Development of 72 homes. Of this total, 64 have been modelled as Extra Care housing for older people and some supported living for adults with disabilities. A further eight units have been modelled as affordable housing which could be for keyworkers

Accommodation for the nursery could be provided alongside the school or within the Children's Centre as part of a 'children's hub'
The design leaves room for Wareham St Mary to expand should this be required in future
Providing a nursing care home fit for the future on this site would replace the residential care service currently located at Anglebury Court. We will need to develop land at Bonnets Lane to deliver our housing aspirations.
Timeline
We're going to submit a formal planning application in November 2021. Formal consultation will take place as part of the planning process. Timelines are subject to change.
2019
Summer - Public consultation
2020
January – Market Information Event
October – Overall development design brief produced
2021
Spring – Comms consultation, Procurement launch
Winter – Select development partner
2022
Spring – Development contract award
Winter – Detailed Planning Applications
2023
Spring – Construction begins
Winter – Procure Care and Support Services
Environmental Considerations
The plans also consider the community around the development site and will address issues of traffic, parking, the ability to travel easily without using a vehicle and access to green spaces. We are aiming for this to be a low carbon development as it is important for us to lead on sustainability.
Parking
The current drawings are early concepts only. Planning policy will dictate the number of parking spaces we can provide and will make sure there will be enough. Detailed plans, showing the exact number of parking spaces, will be drawn up and consulted on as part of the formal planning process. All options offer flexible use of parking spaces which can be used for different purposes at various times of day. We don't envisage there being any impact on nearby residential streets.
Shared office space
New offices will be built into the design if required and we will be able to share them with the NHS. Professionals are already using technology and smarter, more flexible working, and the support people will receive will not be affected, no matter where staff are based. We are reviewing how services operate and the future demands on care services. We will maximise space and minimise cost whenever possible.
GP surgery and Health Hub
Dorset Healthcare have provided us with a building footprint that reflect the requirements to house the services they will deliver from the Health Hub, and we have made sure there is space within the concepts for this building in the location that best suits the health services. Wareham Surgery GP practice will locate into this building, taking advantage of modern facilities and shared space with clinical health services to delivery effective health care in Purbeck.
The NHS in Dorset remains fully committed to providing modern, integrated health services and facilities to meet the needs of communities in Purbeck. The vision set out in Dorset's Clinical Services Review in 2017, to create a 'one-stop' community health and care hub in Wareham, remains our preferred way forward. However, due to the far-reaching impacts of the COVID-19 pandemic and related changes for the NHS, such as increased take-up of online services, we are taking the opportunity to review these plans, and make sure they are still fit for purpose. We are also exploring various funding options for the project, to establish the most cost-effective approach.
The town's GP practice is already working very closely with services provided by Dorset HealthCare in the community, plus Dorset Council's social care teams, to provide seamless, joined-up care for local people. This will continue while we assess the next step for the Wareham hub project.
- NHS Dorset CCG and Dorset HealthCare
Memorial trees
We are aware there are two memorial trees on the site, along with a number of trees protected by Tree Preservation Orders. Any trees which can be retained, will be. Where this isn't possible, we will liaise with the families to agree a sensitive and appropriate alternative.
Talking to the community
Due to Coronavirus, we have not been able to engage with the community face-to-face, as we would have liked. However, we have been working with:
landowners
the NHS
Wareham Town Council
Wareham St. Mary Primary School
Focus Nursery
Friends of Wareham Hospital
the GP Practice
other groups
We have also consulted the Wareham Neighbourhood Plan.
We have plans to talk to the people of Purbeck again, to make sure people are kept up to date with our project and to make sure people can help to shape our plans for this development.
Affordable Housing
Some affordable housing will be for key workers – people who work in the social care and health professions in the Purbeck area. Some will be allocated for people in the local area who are priced out of the market due to high cost of property and rental accommodation. A Local Lettings plan will be developed and will determine who is eligible to occupy these properties.

Affordable Housing means different things to different people, but where we can, we will be trying to keep rents as low as possible to make sure the housing we create is available to a wide range of people. It is not always possible to meet Social Rent levels in Specialist housing for people with care and support needs, but we will make this clear as the services take shape.
We'll be updating these pages as more details become available, but if you have any queries, you can give us feedback.
Contact us
If you need this information in a different format please contact us:
Are you a school and would like to attend the site? Please email BuildingBetterLives@dorsetcouncil.gov.uk for more information.