Providing additional accommodation to meet increasing demand for school places.
The project and background
Due to increasing demand for school places in the Dorchester area, additional accommodation in the form of a new two storey detached building has been constructed at St Osmund's CE Middle School to increase it from a 5 Form Entry (FE) (600 pupils) to a 6FE (720 pupils) school. The new building, located to the eastern side of the existing school, is providing four additional classrooms, a multi-purpose resource teaching space and a new dining hall and kitchen. A replacement of the existing Multi Use Games Area (MUGA) has also been provided as the new building is located on existing facilities.
The construction of the new accommodation commenced on Monday 30 January 2017. Section One works, which incorporated the new teaching block, dining hall and MUGA was handed over to the school on Friday 27 October 2017, allowing the school to move into the new accommodation during week commencing 30 October 2017. Section two works have commenced with the demolition of the existing drama studio and will involve the creation of replacement car parking spaces and re-instatement of soft landscape and playing fields. Contract completion date for section two works is 15 December 2017.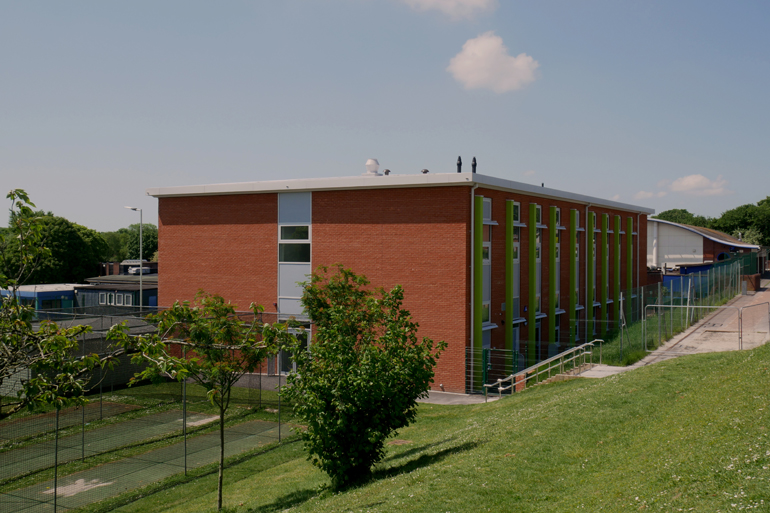 The design
The building is two storey to reduce the amount of green space that would be lost to a single storey development. The new building is situated on the eastern side of the existing school on the land previously occupied by the existing floodlit MUGA.
The scale of the building takes into consideration both the school buildings and the housing near to the site. The is the first two storey building designed in accordance with the former Dorset County Council's baseline principles and uses traditional brick with a steel frame and pitched roofs. It is designed to be simple in its construction, utilitarian, fit for purpose and affordable. Photovoltaic panels have been installed on the southern side of the roof. The classrooms have generous ceiling heights to allow natural ventilation and natural daylight.
External works and landscape
A new Multi Use Games Area (MUGA) which is fenced and serviced by LED Lighting has been created to the south of the new building. Pedestrian access routes have been formed to link the new building to the main pedestrian access around the existing buildings.
The existing temporary drama building has been demolished and the area will be reinstated with a combination of car parking, grass, informal soft recreation space and tree planting. The existing trim trail and covered picnic area will be relocated. One large Norway maple tree and two small cherry trees were removed due to their proximity to the works, however replacement trees will be provided in a nearby location to the existing ones as part of the project.
The design team
The project to provide additional accommodation at St Osmund's CE Middle School has been procured, project managed and designed by Dorset Property. The design team and main constructor are as follows:
Client: Managing Our Assets Group for Cabinet, represented by the Director for Children's Services
Project manager: Dorset Property
Architect: Dorset Property
Cost consultant: Dorset Property
Mechanical engineer: Dorset Property
Electrical engineer: Dorset Property
Landscape architect: Dorset Property
Structural engineer: Dorset Property
Principal designer under CDM: Dorset Property
Clerk of works: Dorset Property
Main constructor: Morgan Sindall Construction & Infrastructure