The provision of a ground floor extension to provide fully accessible dormitories together with internal alterations.
The project and background
Leeson House Field Studies Centre is located to the south of Langton Matravers near Swanage. It is Grade II listed.
There were previously no independent facilities for wheelchair users to be able to stay at Leeson House. The present configuration of spaces such as the dining room, library and conservatory are accessible but it was not possible to access the dormitories and toilets which are on the first and second floors.
The focus for the alterations was to enable wheelchairs users and people with mobility issues to use the facilities with ease. The work was divided into two elements; the provision of new dormitory accommodation which is compliant with accessibility requirements and internal alterations to address the current changes in levels between the dining room and hall. Extensive discussions took place to achieve a solution which caused the least harm to the grade II listed building.
The project started on site in September 2014 and was completed in June 2015.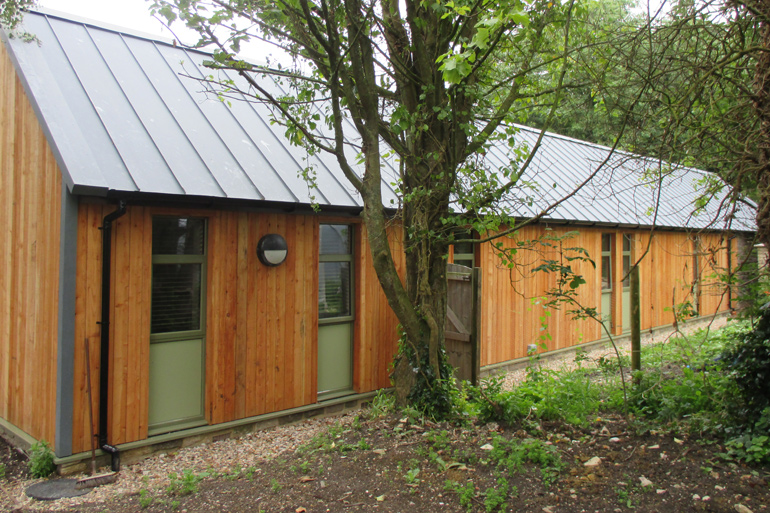 The design
The internal alterations involved the creation of a corridor from the present dining room to the corridor space between the dining room and the hall and the creation of an opening where there is a cupboard within the hall. Within the hall space a lift was installed to accommodate wheelchair users together with a staircase to give access to the hall and new dormitories.
Three dormitories, together with bathroom facilities and additional store space, have been added to the west of the existing hall. This extension replaced the post-war store. A corridor between the existing hall and the proposed dormitories was created against the west wall of the hall. The corridor is lit by three roof lights and the central pair of sash windows became a set of doors. The location of the extension is on the least intrusive elevation and will have limited visual impact on the main southern elevation.
The extension and internal alterations have been designed to have minimal impact on areas which are considered to be of architectural or historical interest.
The design team and main constructor
The project to provide the ground floor extension and internal alterations at Leeson House Field Studies Centre was procured and project managed by Dorset Property. The design team and main constructor were as follows: -
Client: The Asset Management Group for Cabinet, represented by the Director for Children's Services
Project manager: Dorset Property
Architect: Dorset Property
Cost consultant: Dorset Property
Structural engineer: Dorset Property
CDM co-ordinator: Dorset Property
Clerk of works: Dorset Property
Main constructor: H P Contracts