The fit out of a new library and adult learning centre in Dorchester, providing improved and more accessible facilities.
The project and background
The construction of the former West Dorset District Council's new office development in Charles Street, Dorchester, was completed in the winter of 2012.
Within this development, the former Dorset County Council created a new library and adult learning centre. This brings together the two services into a purpose-built 'one-stop shop' of learning, reading and information within easy walking distance of the town centre and public transport links. Parking is available in the car park directly behind the former West Dorset District Council's new offices.
The facility includes a library area with self-service units, children's area, family learning room, quiet study area and public access computers. Three classrooms will be used for adult learning students and can also be used as meeting rooms by community organisations. Rooms will also be available for hire to public and private sector organisations. The building also features baby changing facilities, lifts to each floor and staff facilities.
The library and learning centre is on three floors. The lower ground floor will have access to DVDs, the internet and general fiction. The upper ground floor includes access to fiction, a family room and teaching space. The first floor contains the reference section together with the classrooms.
The project to create Dorchester Library and Learning Centre was completed in the summer of 2013.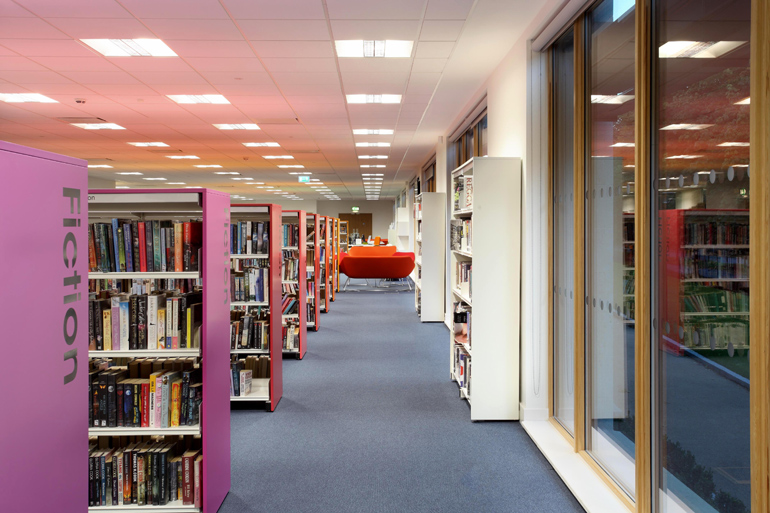 View a selection of internal and external photographs on our flickr photostream.
The design team and main constructor
The Dorchester Library and Learning Centre project was procured and project managed by Dorset Property. The design team and main constructor were as follows:
Client: The Asset Management Group for Cabinet, represented by the Director of Adult and Community Services.
Project manager: Dorset Property
Architect: Dorset Property
Cost consultant: Dorset Property
Mechanical engineer: T Clarke Bristol Ltd/Dorset Property
Electrical engineer: Dorset Property
Structural engineer: Dorset Property
CDM co-ordinator: Dorset Property
Clerk of works: Dorset Property
Main constructor: Midas