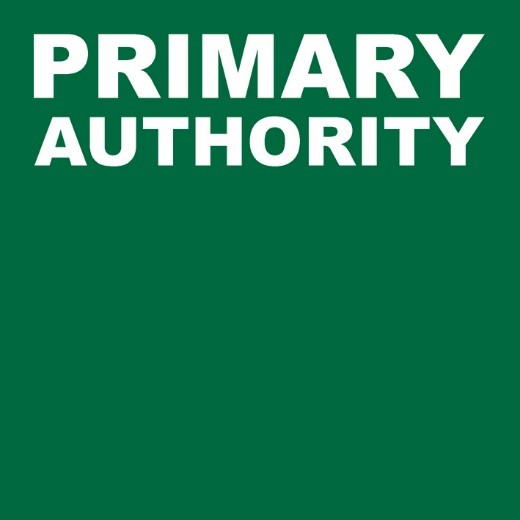 Primary Authority enables businesses to form a legal partnership with a local authority, to receive assured and consistent regulatory advice which makes it easier and simpler to comply with Trading Standards, Environmental Health and Fire Safety legislation. Other local authority enforcement officers must take account of this advice when inspecting and contacting your business.
Your business can form a Primary Authority partnership with a local authority whatever your size, whether you are a sole trader operating in one local authority area, or a larger regional or national company trading across multiple local authority areas, or if you only trade online.
A Primary Authority partnership can give your business confidence that you are operating within the law, as well as giving you a point of contact for any regulatory queries that relate to your business. This can help your business to cut down on red tape, reducing inspection times and reducing cost and confusion caused by conflicting advice.
Businesses that operate as part of a group, such as trade associations and franchises, can also benefit from entering into a Primary Authority partnership.
More detailed information about Primary Authority Partnerships can be found on GOV.UK.
Why partner with Dorset Council?
A Primary Authority Partnership with Dorset Council can provide significant benefits, including:
receiving all of your regulatory support in one place
having a single point of contact for enquiries, with agreed response times
access to assured, professional and tailored regulatory advice
support with complaint monitoring to identify trends
developing a positive and collaborative relationship with local regulators
Dorset Council has Primary Authority partnerships with many businesses across a variety of sectors, including:
The Hobbycraft Group
The House of Sarunds
UK Postbox Ltd
Fladden Fishing UK
Kondor Ltd
The Rural and Industrial Design and Building Association (RIDBA)
CC Moore
Dorset Council is a unitary authority that has a great team of specialist officers who cover a wide range of regulatory disciplines including:
health and safety
food safety and food standards
fair trading
licensing
agriculture
animal welfare
weights and measures
product safety
Currently we cannot offer in-house primary authority advice on fire safety. However if this is required we would be able to assist you in finding a suitable Primary Authority partner to provide this service.
Primary Authority offers the chance to remove the perceived divide between local authority regulators and business, by working together to ensure that your business remains legally compliant. Advice can be provided on a reactive basis, for example in relation to a business query, or on a proactive basis, where your business may want input into a review of a particular process.
Primary Authority is operated on a cost-recovery basis. For further information including our fee structure please contact trading standards.