Our vision is to become a digital council in a digital place, putting people and their needs first using design and modern technology to improve people's lives.
We aim to become a council with a digital mindset across the whole organisation from the political and officer's leadership through to the frontline. We will be absolutely focused on users' needs and climate conscious in the decisions we make when designing services.
We will constantly challenge ourselves to improve and consider new ways to deliver services, making sure we are doing the right things in the right way. We will establish the behaviours and leadership to create the right conditions so that creativity and innovation become the norm.
We will provide digital leadership across Dorset to set community aspirations. We will develop and support relationships with digital leaders, businesses and investors to promote culture change.
This vision will help us create a vibrant, safe, healthy and prosperous Dorset supporting delivery of our council plan.
We will do this by focusing on the two themes:
Becoming a digital council
We will:
design end to end services based on understanding people's needs and involving them throughout
deliver online services that are so good people prefer to use them, enabling us to deal with those people who need more support
use technology to become more efficient and productive, automating processes and using assistive technology
use data and intelligence to support decision making, understand need, target our efforts, and to manage and prevent demand
change how we think and behave, to become more creative, innovative, adaptable and inclusive
demonstrate digital leadership across the organisation, wider local public sector and Dorset
Enable Dorset to be a digital place
We will:
raise digital skills across businesses and residents to allow them to interact digitally and businesses to have access to people with the digital skills they need
stimulate investment from the private sector
facilitate world class digital fixed and mobile infrastructures in the county to connect people and places, where and when they need it, enabling economic growth, and for people and communities to help themselves
demonstrate digital leadership by setting community aspirations and expectation, creating culture and building capability
increase transparency and citizen participation in policy development and decision making
support businesses, the public sector and residents to use technology to make a real difference to people's lives
Achieving the vision
We have developed a maturity curve to enable a dialogue with people about our digital vision and think about the opportunities to get started with change. From early workshops we have examples of activity across stages 1-3 with the majority in stage 1.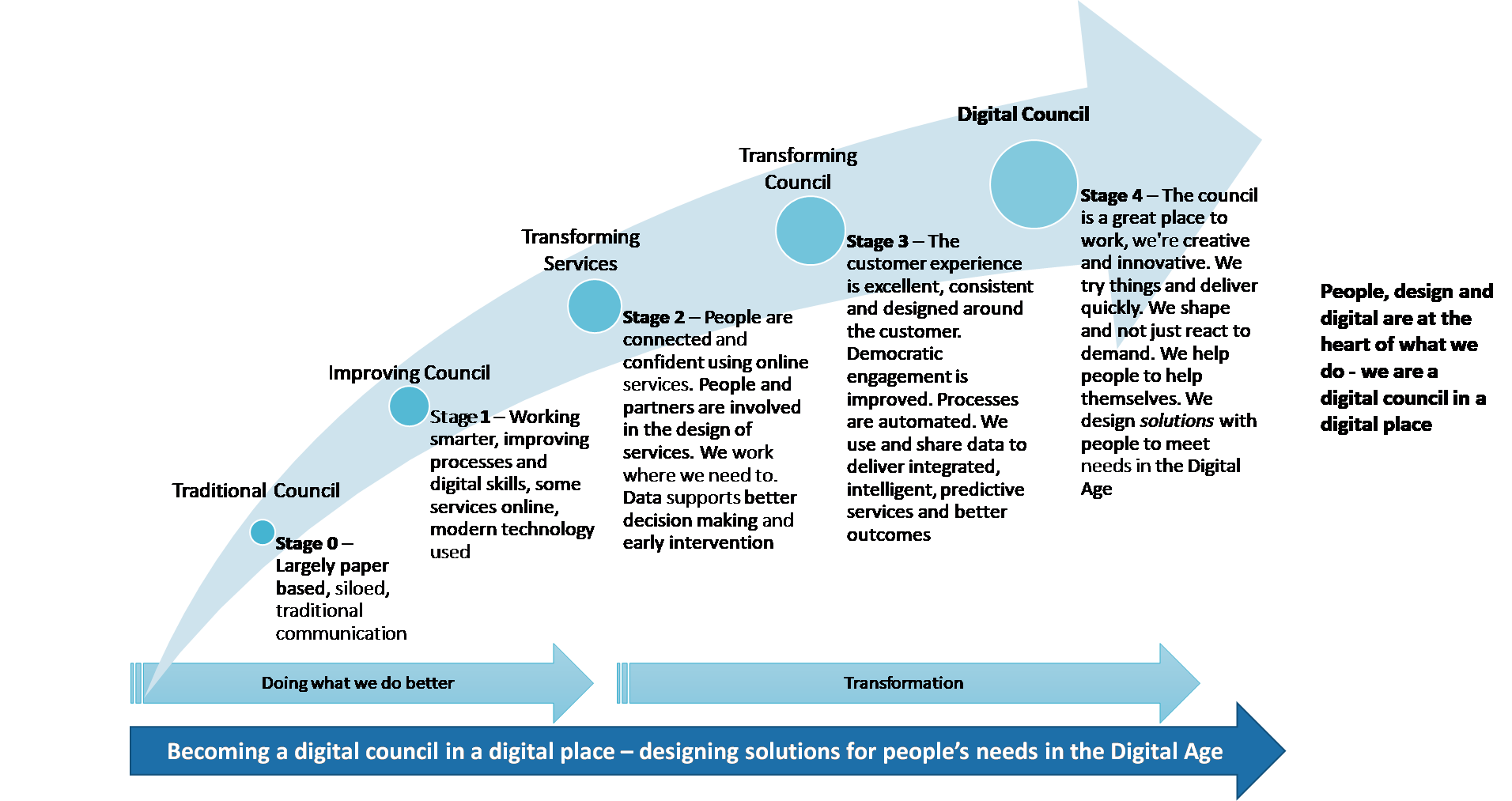 Since then we have responded to COVID-19 and we have:
had 2500 employees working from home using technology to connect and collaborate as a workforce
used a variety of communication methods with the public to meet different needs
responded as an organisation with agility and pace
set up new online services
provided devices to connect the most vulnerable in our communities
used data and intelligence for community shield
improved senior leadership communication and engagement with employees
helped democratic meetings to operate virtually
found creative and innovative solutions to problems
all worked as #onecouncil to deliver services absolutely focused on the needs of users
We feel that we have made a greater shift into stage 2. We want to seize the opportunity to retain the positive learning and further inspire the workforce around the potential of digital to think differently about how we deliver services.
Enablers
To deliver our vision we have identified five cross cutting enablers:
Digital skills and inclusion.
Designing future services.
Technology and infrastructure.
Data and intelligence.
Culture and leadership.