We will help to deliver sustainable development while protecting and enhancing Dorset's environment.
What we will do:
improve access to our coast, countryside and greenspaces
deliver services in ways that protect our natural, historic and cultural environments
promote behavioural change to reduce waste and increase reuse and recycling
lead and support communities to respond to climate and ecological change
capitalise on Dorset's unique environmental assets to support our priorities
provide an environment that attracts business investment, tourism and a skilled workforce
protect Dorset's natural biodiversity
build and celebrate community pride in our environment to help keep it clean and safe
support the development of appropriately located renewable energy
How we will do it:
develop a climate and ecological emergency strategy working with our partners, particularly town and parish councils and Government
actively respond to proposals that impact on the environment
deliver a highways verge management and street cleansing strategy
deliver our pollinators action plan
responsibly manage the spaces, buildings and land we own
support local farmers, woodland owners, foresters and land managers to make environmental improvements through agri-environment schemes
support the Environment Agency on flood protection projects
protect our environment from harm by monitoring and improving air, land and water quality
Who we will work with:
Areas of Outstanding Natural Beauty partnerships
Dorset Local Nature Partnership
Jurassic Coast Trust
Dorset Wildlife Trust
National Trust
Natural England
Marine Management Organisation
Environment Agency
Historic England
Highways England
government departments
Dorset Police
Dorset and Wiltshire Fire and Rescue Service
town and parish councils
voluntary, community and social enterprise organisations
significant landowners
Unique environment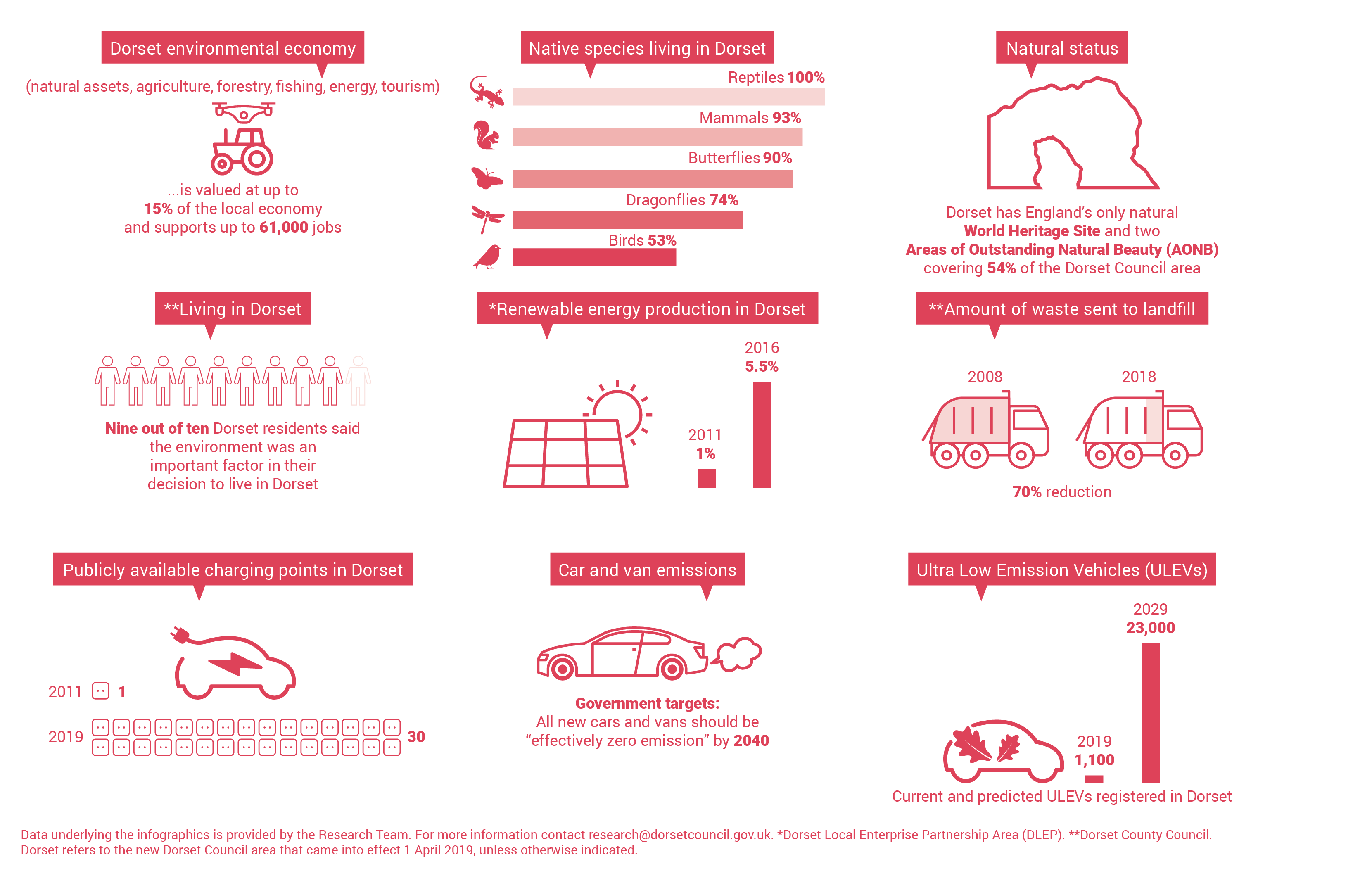 Dorset environmental economy
Including natural assets, agriculture, forestry, fishing, energy and tourism, is valued at up to 15% of the local economy and supports up to 61,000 jobs.
Native species living in Dorset
Reptiles – 100%
Mammals – 93%
Butterflies – 90%
Dragonflies – 74%
Birds – 53%
Natural status
Dorset has England's only natural World Heritage Site and 2 Areas of Outstanding Natural Beauty (AONB) covering 54% of the Dorset Council area.
Living in Dorset
Nine out of ten Dorset residents said that the environment was an important factor in their decision to live in Dorset.
Renewable energy production in Dorset
This is based on the Dorset Local Enterprise area (DLEP).
Amount of waste sent to landfill
Between 2008, and 2018 we saw a 70% reduction in waste sent to landfill in the former Dorset County Council area.
Publicly available charging points in Dorset
Car and van emissions
Government targets:
All new cars and vans should be "effectively zero emission" by 2040.
Ultra-Low Emission Vehicles (ULEVs)
Based on current and predicted ULEVs registered in Dorset:
2019 -1,100
2029 – 23,000
Data underlying the infographics is provided by the Research Team. For more information contact research@dorsetcouncil.gov.uk. Dorset refers to the new Dorset Council Area that came into effect 1 April 2019, unless otherwise indicated.