News in April 2021 - open for visitors!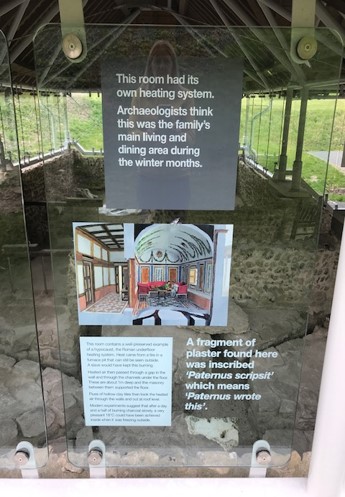 The main part of the Roman Town House Project is finished and the site is open for visitors. We have:
created a new access route by opening up a blocked gateway in West Walks. Bike rings have been installed at this entrance
painted a mosaic pathway to guide visitors from the gateway onto the site, and new pathways giving improved wheelchair access around the site are complete and bedding in.
painted the metal supports and wooden boarding of the cover building in a more neutral colour scheme than before
installed new lighting and an audio system in the building
created a new teaching and events space with amphitheatre-style seating
installed new interpretation boards around the site, and put more detailed information about each room on the windows of the cover building, and
specialist conservators have finished cleaning and repairing the beautiful mosaics.
Finishing touches
We still have a bit more work to do, with one or two snags on the pathways to be sorted out.
Landscaping around the site is taking shape, and we are using plants chosen for biodiversity benefit. We have planted a new hedge at the top of the site and a small orchard just outside. Bat boxes and hedgehog homes will go in shortly, and a biodiversity information panel will be installed.
Events
A programme of events for the 2021 season (from July 2021) is taking shape, with two new producers employed by the Arts Development Company.
The Roman Town House in December 2020 with a new paint scheme and seating area nearly finished
New interpretation and landscaping around the Roman Town House, April 2021
New interpretation board on the well at the Roman Town House, April 2021
New interpretation board at the Roman Town House, April 2021
Specialist conservators cleaning mosaics at the Roman Town House, April 2021
Volunteering at the Roman Town House
We are looking for people to volunteer from 2021 onwards when the Roman Town House will be fully open. We'd like you to help us:
interpret the site for visitors;
do basic maintenance and cleaning inside the house;
monitor the condition of this special site, and
guide visitors inside the building
Contact Bridget Betts to find out about volunteering: