We'll all be dealing with the impact of Coronavirus in different ways, and that's ok! We all go through a cycle of response (see below diagram). We'll all be in different places of that cycle at different times, but our coping methods may not be the same as our family, friends or colleagues: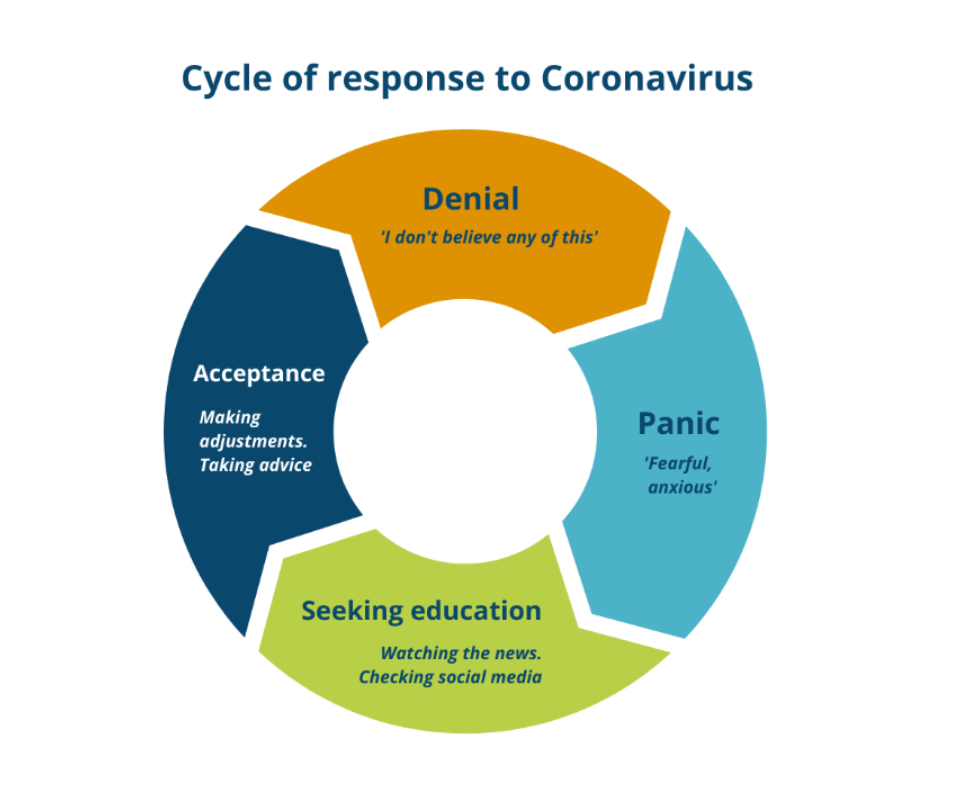 Some may need more support than others to understand what's going on around them. Others will prefer a distraction. Making sure we respect each other, respect how we deal with situations and respect the level of information we feel we need to process what's happening is how we can support each other.
Here are some typical responses based on different behaviour styles to be mindful of. Some people:
need to understand everything that's happening, follow the rules and research facts and guidance so make sure you establish the facts
will worry, will question what it all means and think about different scenarios so be cautious and considerate of them
will see that with a clear action plan risks and casualties will be minimised, but we will get through it, so give a realistic resolution
will need humour, music, entertainment, to see the light in the dark and know it will all be ok in the end, fighting with positivity
The control dartboard tool
Stay conscious of the things that you still have some control or influence over. Helping employees to focus their attention on controlling the controllables can be a helpful tool to maintain their motivation and wellbeing. Read this article about from Inverse about controlling the controllables.
Use the control dartboard with your team members to help them manage their concerns: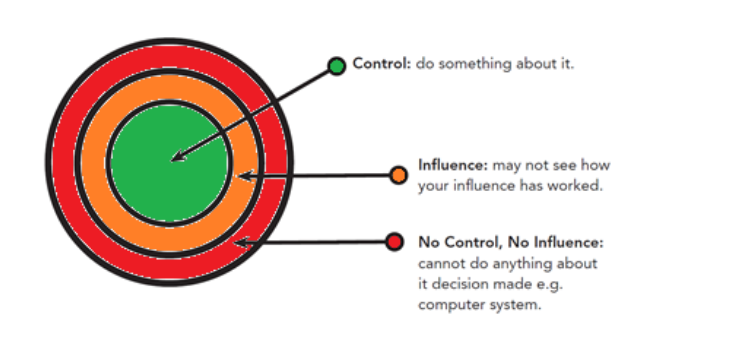 Outer circle
This is where you have no control or influence.
These are the areas we have no control over, for example:
the new IT systems
implementation of a new pay system
Consider how much time and energy we spend on the things we cannot control.
Middle circle
This is where you can influence things or add value.
These are areas we have some control or influence over, for example:
how we work together in teams
suggestions for new ways of working during this time
having influence
using your voice to improve things
Inner circle
This is where we do have control and where we can make a difference.
These are areas we do have control over, for example:
our own actions and behaviour
how we show leadership behaviours
how we engage with others and demonstrate the behaviours we aspire to
Think about these questions:
who (and/or what) is in your area of influence and why?
in which areas do you have the power to make something better?
how could you use your influence to make change?
what are some of the issues you need to acknowledge are outside of your control?