Internal and external alterations to Swanage First School to enable it to operate as a primary school.
The project
As part of the reorganisation of Purbeck schools, Swanage First School with a capacity of 150, was remodelled into a 210 place Primary School. The school had an undersized hall, was short of two classrooms and the reception base had no dedicated outdoor learning area.
Works were undertaken to convert the old staff room into a new reception year classroom with integrated toilets, the former reception year classrooms were brought together to form a new primary school sized hall with new servery. The old hall was converted to form two new classrooms. The main toilets were also refurbished and both internal and external access issues were addressed.
External works include the remodelling of outside spaces; an external raised timber deck and covered play area was created which floats over the existing sloping tarmac to provide a light, airy space for use in all weathers. It also boasts an elevated view across Swanage Bay and the Purbeck Hills beyond.
New timber decked walkways link the raised deck with existing school entrances. The balustrading has been decorated with weatherproof banners in a colourful deckchair design, inspired by the seaside. School entrances which had stepped accesses have been replaced with gentle ramps so that they are all now fully accessible.
The project was completed in August 2013.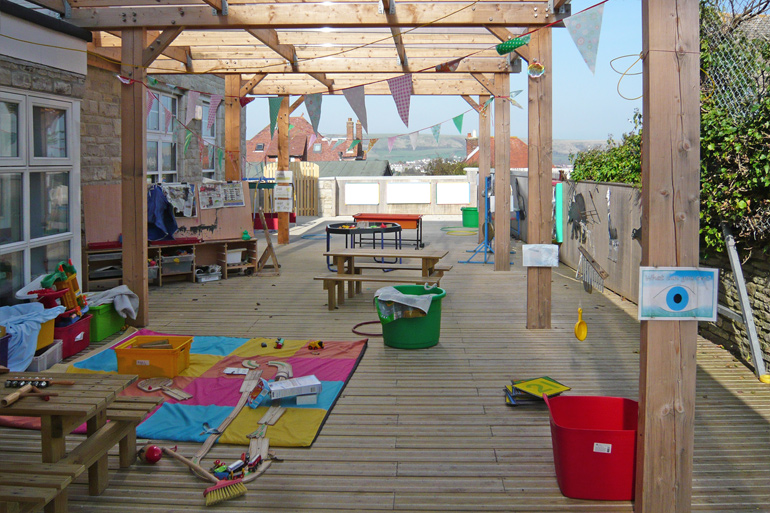 The design team and main constructor
The project at Swanage Primary School was procured and project managed by Dorset Property. The design team and main constructor were as follows:
Client: The Asset Management Group for Cabinet, represented by the Director of Children's Services
Project manager: Dorset Property
Architect and lead designer: Dorset Property
Cost consultant: EC Harris LLP
Mechanical engineer: Dorset Property
Electrical engineer: Dorset Property
Landscape architect: Dorset Property
Structural engineer: Parsons Brinkerhoff
CDM co-ordinator: Stride Treglown Ltd
Clerk of Works: Dorset Property
Main constructor: Hammond Building Contractor